GPUCPU AI Fusion Computer with Intel® 9th Gen Core i7-9700TE, 2 x 2.5" SSD/HDD, NVIDIA®GTX1060 GPU (CUDA Cores:1280), Operating Temperature -20°C~60°C 
Design for reliability under demanding MIL-STD-810G Thermal, Shock, Vibration, Humidity/EMI/EMC conditions
Intel® 9th Gen Core i7-9700TE Processor (1.8GHz turbo up to 3.8GHz, 8 cores)
2 x DDR4 SO-DIMM up to 32GB
NVIDIA®GTX1060 GPU (CUDA Cores:1280)
4 x RJ45 LAN, 4 x USB, 5 x DP
2 x 2.5" SSD/HDD
Extended range of temperature -20°C~60°C
製品概要
Specifications
CPU Performance
SSD Performance
Introduction

CPT320, an AI Fusion Computer driven by Intel® 9th Gen Core i7-9700TE (3.8GHz, 8Cores), offering even greater CPU and graphics performance. Further equipped with NVIDIA®GTX1060 GPU (CUDA Cores:1280), CPT320 possess remarkable and impressive performance in image processing, plus the system can support up to 5 DisplayPorts allowing multi-display application. CPT320 at the same time equipped with up to four Ethernet Ports, four USB3.0, and optional COM Ports and CAN bus, supporting high input and output efficiency. What's more, with DDR4 up to 32GB, the system is designed to have great capability in data storage and analysis. Last but not the least, CPT320 is designed to operate under extend range of temperature from -20°C to 60°C, and demanding MIL-STD-810G Thermal, Shock, Vibration, Humidity/EMI/EMC conditions.

 
The Core Brain of Driverless Vehicle

Driverless vehicle requires multiple sensors such as LiDARs, cameras to play as its eyes for environment and obstacle detection. The image produced by LiDARs and cameras need to be analyzed, compared and one step further come up with a decision-making result to indicate control system to react to the situation. CPT320 is perfectly match with the demand of driverless technology. With NVIDIA®GTX1060 GPU (CUDA Cores:1280), image provided by sensors can be efficiently processed and analyzed, plus Intel® 9th Gen Corei7 CPU and DDR4 32GB memory which greatly enhance the working speed of data analysis. Possessing 5 DisplayPorts, CPT320 is able to display multiple images on the vehicle, including the direct image detected by LiDARs and cameras, passenger information and operation interface. CPT320 is undoubtedly an outstanding solution to play an important role in self-driving technology and AI fusion.
Unique Challenges

Patented Thermal Solution

STACKRACK designs a unique enclosure that is able to stack together both horizontally and vertically. The aluminum heat sink enclosure of CPT320 allows quad-sided heat dissipation. STACKRACK exclusively adopts special heat radiating material and combining with special CNC cutting, further forged into a lavish sophisticated metal. Apart from the special heat sink enclosure, CPT320 innovatively adopts two kinds of copper heat spreader. The shape and the size of the spreader are tailor-made based on the heat sources placement of CPU module and graphic module. In view of the gap difference between motherboard and heat sink, STACKRACK builds two heat spreaders in different thicknesses. Combining all these exclusive thermal designs can alternatively replace traditional fan, and also ensures high reliability and stability while working under wide range temperature from -20°C up to 60°C.

 

MIL-STD-810G designed for high environmental adaptation

CPT320 is designed to meet MIL-STD-810G standard for shock and vibration. MIL-STD-810G standard is considered the upmost principle, which guarantees the system achieves superior quality and stability when operate under various environment, especially applied in vehicle, which can possibly run through unpredictable terrain, causing sudden shock or occasional vibration.

 
perating Temp.

-20°C ~ 60°C 
( ambient with air flow )
 

System

Model
CPT320
CPU
Intel® 9th Gen Core™ i7-9700TE ( Frequency 1.8GHz, Turbo Boost Frequency
up to 3.8GHz ), 8 Corest, 12MB SmartCache.
Build-in HD Graphics 630 for excellent 3D, Turbo Boost Technology 2.0,
VPro and Hyper-Threading support.
Memory
Up to 32GB DDR4 RAM
Chipset
Intel® H110 Chipset providing integrated USB 3.0 and supporting 6th /7th
generation Intel® Core™ processor families
Expansion Slot
1 x M.2 ( KEY E, 2230 ) with PCIe x1 and USB 2.0 for Wireless
1 x M.2 ( KEY M, 2242/2260/2280 ) with PCIe x4 and SATA3 for SSD

Display

GPU
NVIDIA GTX1060M
Display Port
5 x 20Pin DisplayPort connectors (Female)

Storage

M.2
M.2 Solid State Disk ( SSD ) - up to 1TB Capacity.
Rugged Industrial NAND Flash mSATA Storage w/ Rugged -40/+85C High Capacity,
optional Pre-loaded with Linux or Windows OS.
128 / 256 / 512GB /1TB Innodisk 3MV2-P Series MLC SATA III 6Gb/s Flash SSD,
Rated for 520 MB/sec Sequential Read ; 350 MB/sec Write Max.
SSD/HDD
2 x 2.5" Drive Bay

Ethernet

Ethernet
2 x Intel Gigabit Ethernet LAN Interfaces ( 10/100/1000Mbps )

Rear I/O

DisplayPort
4 x 20Pin DisplayPort connectors (Female)
Ethernet
2 x RJ45 Gigabit Ethernet LAN Interfaces
4 x RJ45 Gigabit Ethernet LAN Interfaces ( option )
Serial Port
2 x DB9 connector RS-232 (Optional)
Button
1 x Power Button with LED
DC-IN
4P Rugged Terminal connector, DC 12V
Indicator LED
HDD Active LED

Applications,
Operating System

Applications
Commercial and Military Platforms Requiring Compliance to MIL-STD-810G
Embedded Computing, Process Control, Intelligent Automation and
manufacturing applications where Harsh Temperature, Shock, Vibration, Altitude,
Dust and EMI Conditions. Used in all aspects of the military
Operating System
Windows 10
Ubuntu13.04, Ubuntu13.10, Ubuntu14.04, Fedora 20

Physical

Dimension ( W x D x H )
250 x 225 x 98 mm
Weight
5.5 Kg
Chassis
SECC + Aluminum Alloy, Corrosion Resistant.
Finish
Anodic aluminum oxide ( Color silver )
Cooling
Natural Passive Convection/Conduction. No Moving Parts
Ingress Protection
Dust Proof ( Similar to IP50 )

Environmental

MIL-STD-810G Test
Method 507.5, Procedure II ( Temperature & Humidity )
Method 516.6 Shock-Procedure V Non-Operating ( Mechanical Shock )
Method 516.6 Shock-Procedure I Operating ( Mechanical Shock )
Method 514.6 Vibration Category 24/Non-Operating ( Category 20 & 24, Vibration )
Method 514.6 Vibration Category 20/Operating ( Category 20 & 24, Vibration )
Method 501.5, Procedure I ( Storage/High Temperature )
Method 501.5, Procedure II ( Operation/High Temperature )
Method 502.5, Procedure I ( Storage/Low Temperature )
Method 502.5, Procedure II ( Operation/Low Temperature )
Method 503.5, Procedure I ( Temperature shock )
Operating Temperature
-20°C to 60°C ( ambient with air flow )
IStorage Temperature
-40°C to 85°C
EMC
CE and FCC compliance
CPU Performance

The CPT320 offers highly effectively heat conductive and heat convective thermal solutions to meet the demands of customers' extended temperature requirements. The heat conductive solutions uses an aluminum flat mass to place in direct contact with the processor and chipset, the heat from chips then transfers it to the case of the system. In addition, the convective thermal solutions introduce airflow directed to move across the surface of a fin style heatsink placed on top of the processor and chipset. This can be done with the aid of an appropriately sized fan placed in top of the fin style heatsink. Alternately, enclosure airflow can be routed to flow across a fin style heatsink.

| | |
| --- | --- |
| Device Model | CPT320 |
| Tester | Robin Chang |
| Test Result | Pass |
| Test Temperature | High 0°C ~60°C / Low -20°C ~0°C |
| Test Time | 11.5 Hours / 1.5 Hours |
| Test Standard | Reference IEC60068-2 |
| Test Software | Burnin test v6.0 |
| Criteria | After testing, system can't halt. |

Test Configuration

Device
Configuration
Manufacturer
CPU Type
Intel® Core i7-9700TE 1.8GHz
Intel
PCH
Intel H110
Intel
Memory
2 x DDR4 2400 SO-DIMM up to 16GB
Innodisk
Graphic
NVIDIA GTX1060M
NVIDIA
LAN1
Intel® I219 GbE LAN
Intel
LAN2
Intel® I210 GbE LAN
Intel
Test Software
Burnin test v6.0、AS SSD、 Intel Extreme Tuning Utility、
iperf GPU-Z、FurMark v1.9.2
 
Chamber
KSON THS-b4t-150
Chipeng SMO-3
KSON Chipeng
Thermal Measurement

STACKRACK provides real lab testing figures to show how CPU performance is with each tailor made thermal kits as important references and design guide for system engineers. For system integration, the crucial challenge is the operation performance under high temperature, thus STACKRACK conducts long time experiments to make sure the superior testing result for all critical missions. By revealing temperature at processor T junction, processor die and heat sink, STACKRACK is able to analyses the thermal solution we designed achieves maximum efficacy and observe CPU performance. The high temperature testing takes 9 hours which at each temperature point we burn in CPT320 for two hour, from 40°C to 60°C.

 




 

CPT320 MB HeatSink - IO Performance

| | | | | | | |
| --- | --- | --- | --- | --- | --- | --- |
| Point | -20°C | 0°C | 25°C | 40°C | 55°C | 60°C |
| CPU T-J | 3.6 | 3.6 | 3.4 | 3.2 | 2.2 | 1.1 |
| CPU Die | 7.8 | 27.5 | 70.7 | 71.2 | 76.7 | 78.5 |
| Heatsink | 0.1 | 18.2 | 60.5 | 61.6 | 70.3 | 73.5 |
| Δ1=(TJ-Die) | -4.2 | -23.9 | -67.3 | -68.0 | -74.5 | -77.4 |
| Δ2=(Die-HeatSink) | 7.7 | 9.3 | 10.2 | 9.6 | 6.4 | 5.0 |
| CPU Frenquency (GHz) | 3.6 | 3.6 | 3.4 | 3.2 | 2.2 | 1.1 |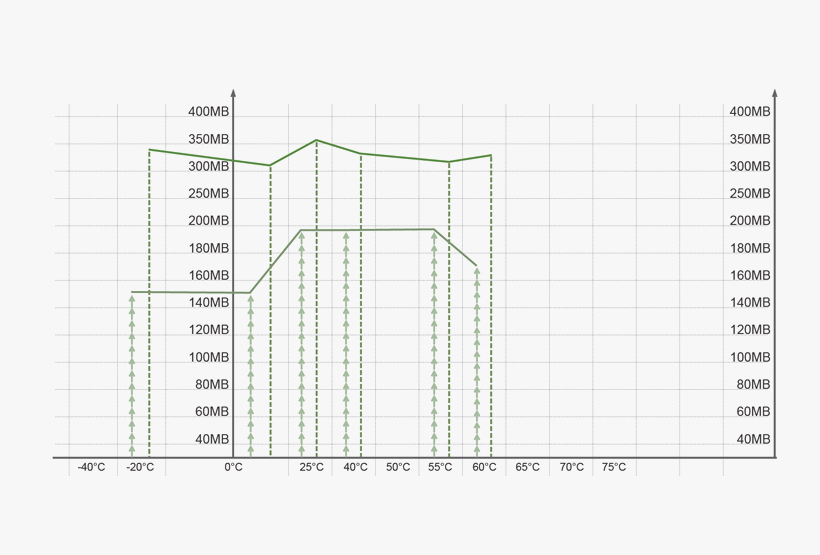 Test Result

SSD ( Read ) MB/s

SSD ( Write ) MB/s
CPT320 MB HeatSink - IO Performance
| | | | | | | |
| --- | --- | --- | --- | --- | --- | --- |
| Point | -20°C | 0°C | 25°C | 40°C | 55°C | 60°C |
| SSD ( Read ) MB/s | 153.9 | 154.4 | 192.5 | 192.6 | 192.9 | 171.9 |
| SSD ( Write ) MB/s | 339.5 | 306.0 | 353.5 | 336.5 | 319.9 | 325.7 |