ROC235A - Intel® Core™ i7,4 x SATA
19" 1U Rack-mount Intel® QM77 Fanless Rugged System with Core i7/i5/i3 processors, 9V to 24V DC-in, Extended Temperature. -40 to 70°C
• Intel® Ivy Bridge i7/i5/i3 CPU + Intel QM77 PCH
• 2 x 204 pin SO-DIMM DDR3 1333/1600 up to 16 GB
• Rich I/O interface with 1 COM, 6 USB, 2 LAN (RJ45)
• Supports 2.5" SATA HDD/SSD
• Flexible expansion with 1 x miniPCIe, 2 x PCI
• 9 – 24V wide voltage DC-in design
• Multi-display: 1x DVI, 1 x VGA, 1 x HDMI
• Extended operating temperature. -40 to 70°C
製品概要
Specifications
CPU Performance
SSD Performance
Thermal Solution
Introduction
ROC235A is an industrial 19" 1U Rack-mount fanless rugged system, suitable for demanding industrial embedded applied applications. Powered by Intel® Ivy Bridge i7/i5/i3 (i7-3610QE, i5-3610ME, i3-3120ME) CPU and QM77 chipset, the power consumption is (45W for i7 and 35W for both i5 & i3), 4.1W for QM77 PCH. PERFECTRON emphasizes on providing exceeding thermal design, with heat pipes and heat sink construct on both component and system levels. Supporting extended operating temperature from -40 up to 70°C, ROC235A is capable of heat transfer in a limited space. This rigorous industrial 1U rack mount fanless system features a black SECC finish and measures 44mm (1.73") in height. Honeycomb vents are designed on the top, sides and back to allow natural convection cooling. 9 – 24V wide voltage design enables a more flexible power environment. ROC235A meets the demand of multimedia workstation, network server and high-end digital signage.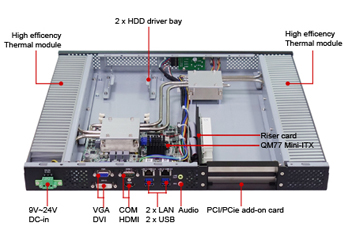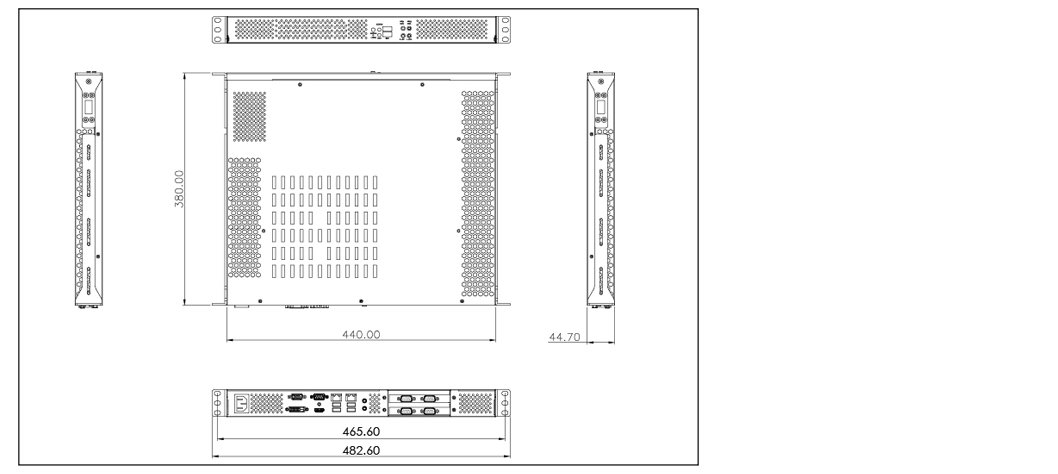 System main board: Mini ITX INS8335A

1. Rich I/O, Infinite Possibility ROC235A contains rich indicators including power, HDD and LAN LED in the front side. For easy integration with all sorts of systems, versatile I/O interface can be found on the rear side. It supports three display (HDMI/VGA/DVI), audio Mic-in, Line-out, 1 x COM, 2 x Ethernet LAN and 6 x USB. Onboard 1x PCI or 1 x PCIe and 1 x mPCIe slots push the expansion ability to the utmost.

2. Wide Voltage Design ROC235A supports 9 to 24V DC-in power, allows the system to be utilized in extensive power types. The design of wide power range keeps the system's reliability and you can expect longer life-span as well. Sudden drop or surge of power posts absolutely no threat to this smart system.

3. Ultra Slim Size ROC235A is a compact yet capable industrial grade fanless system. With a black SECC finish and 44mm (1.73") in height, this 1U size system is superior in its compact yet durable exterior design and highly functional interior structure.
Operating Temp

-40°C to 70°C

System

CPU

Intel® 22nm Ivy Bridge Processor (Mobile) socket(rPGA988)

Intel® Core™ i7-3610QE (4C x 3.3 GHZ), 6M L2 cache (45W)

Intel® Core™ i5-3610ME (2C x 2.7 GHZ), 3M L2 cache (35W)

Intel® Core™ i3-3120ME (2C x 2.4 GHZ), 3M L2 cache (35W)

Memory Type

2 x 204-pin SO-DIMM DDR3 1333/1600 MHz up to 16GB

Chipset

Intel® QM77 Express Chipset (Intel® BD82QM77 PCH)

Expansion Slot

2 x PCI by PCIe x 1, from PCH

1 x Mini PCIe for GEN2

Storage

HDD/SDD

2 x 2.5" SATA HDD/SSD (Easy Swap 2.5" HDD cage)
Supports RAID 0,1

Ethernet

Ethernet

Intel® 82579LM & 82574IT GbE LAN (support 10/100/1000 Mbps for x2 RJ45 ports)

Rear I/O

VGA

1 x 15-pin VGA connector (female)

DVI-D

1 x 25-pin DVI-D connector (female)

HDMI

1 x 19-pin HDMI A Type connector (female)

Audio

Mic-in, Line-out

COM

1 x RS232/422/485

Serial Signals

RS232: DCD-, RXD, TXD, DTR-, GND, DSR-, RTS-, CTS-

RS422: TX-, RX+, TX+, RX-, GND,

RS485: DATA-, DATA+, GND

USB

4 x USB 3.0

DC-in

1 (Terminal Block)

Front I/O

Power Button

1

USB

2 x USB 2.0

Power LED

HDD

HDD LED

1

Reset

1

OS support list

Windows

Windows 7 x32/ x64、Windows 8.1 x32/ x64、Windows 10 x32/ x64

Linux

Open SUSE 12.2、Ubuntu 12.04

Mechanical and Environment

Power Requirement

9V to 24V DC-in

Dimension

440 x 44 x 380 mm (17.32" x 1.73" x 14.96")

Operating Temp.

-40 to 70°C (ambient with air flow)

Storage Temp

-20 to 80°C

Relative Humidity

10% to 90%, non-condensing

Certifications

EMC

CE, FCC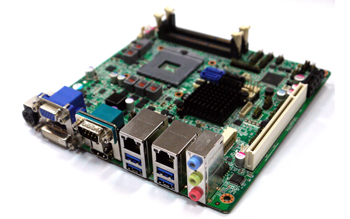 Test Result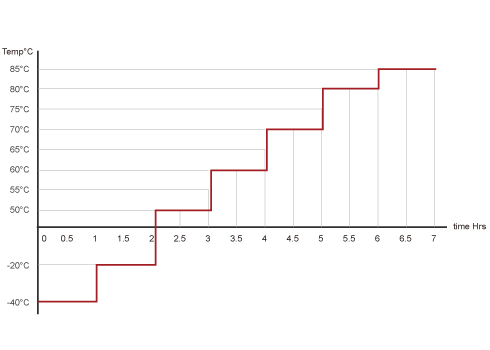 | | |
| --- | --- |
| Device Model | ROC235A |
| Tester | Ian Huang |
| Test Result | Pass |
| Test Temperature | High 0°C~85°C / Low -40°C~0°C |
| Test Time | 5 Hours / 2 Hour |
| Test Standard | Reference IEC60068-2 |
| Test Software | Burnin test v6.0 |
| Criteria | After testing, system can't halt. |
 Test Configuration
Device

Configuration

Manufacturer

 

CPU

Intel® Core™ i7-3610QE Processor

 (6M Cache, up to 3.30 GHz)

PCH

Mobile Intel® QM77 Express Chipset

Memory

Innodisk 8GB DDR3 1600W/T SODIMM

port2 SATAIII

Innodisk 256G SATAIII SSD

USB1、USB2

Passmark Loopback Plugs for USB 3.0

LAN1

Intel® 82574L GbE

LAN2

Intel® 82579LM GbE

Test Software

Burnin test v6.0、HD Tune v4.01、iperf、Passmark USB3.0
Thermal Measurement
PERFECTRON provides real lab testing figures to show how CPU performance is with each tailor made thermal kits as important references and design guide for system engineers. For system integration, the crucial challenge is the operation performance under high temperature, thus PERFECTRON conducts long time experiments to make sure the superior testing result for all critical missions. By revealing temperature at processor T junction, processor die and heat sink, PERFECTRON is able to analyse the thermal solution we designed achieves maximum efficacy and observe CPU performance. The high temperature testing takes 5 hours which at each temperature point we burn in ROC235A for one hour, from +50 to +85°C.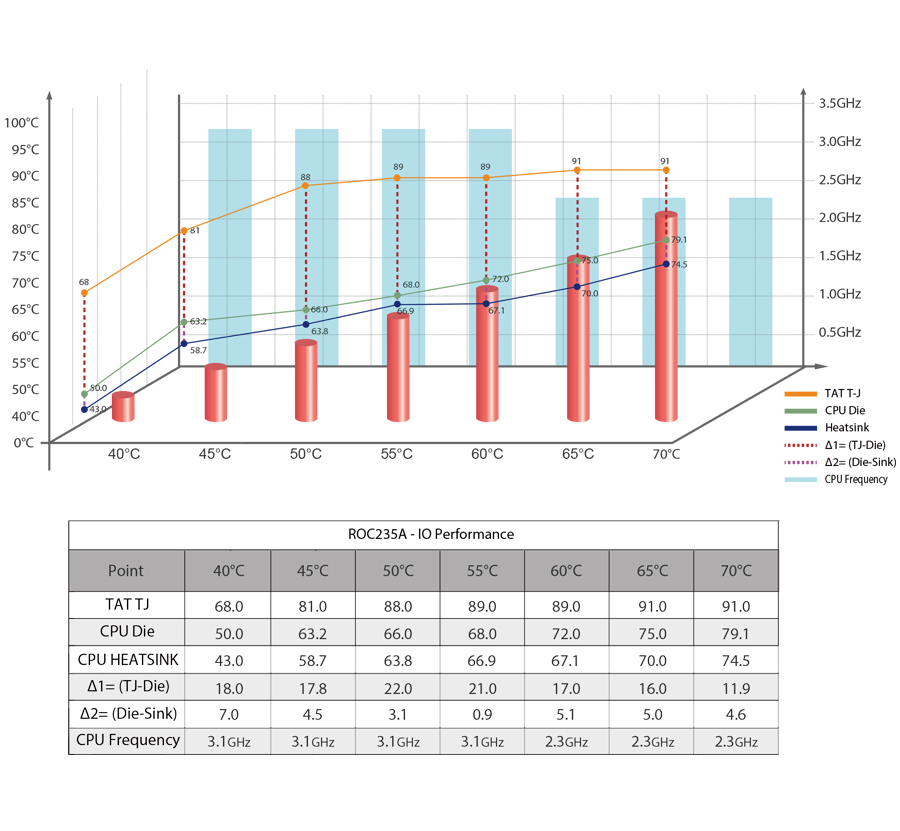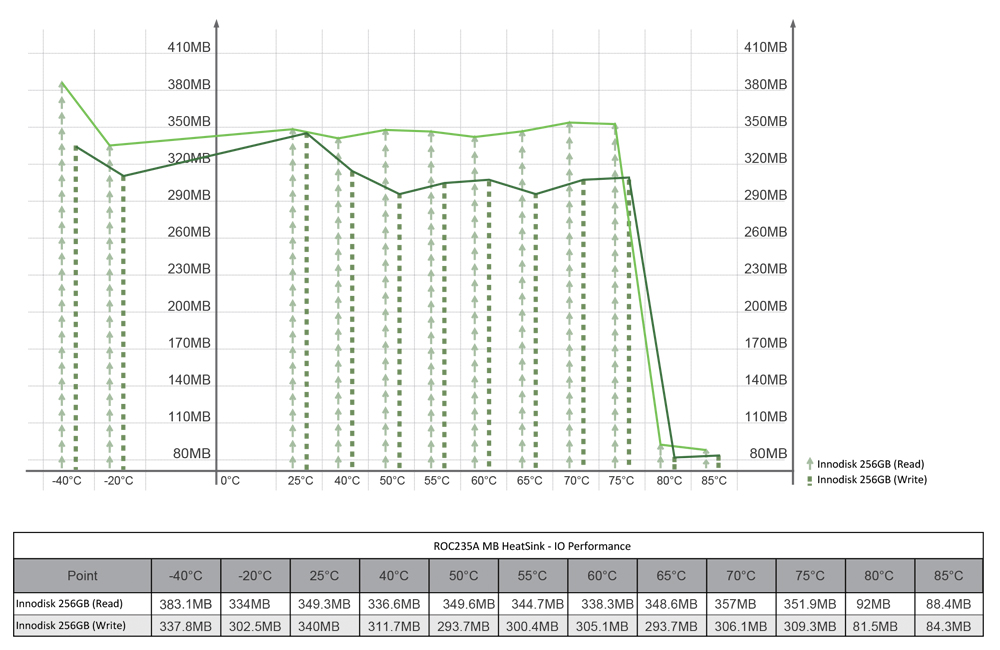 Effective cooling solution for maximum heat dissipation:
What composes of a perfect thermal solution? With ROCS235A, it's all about the incorporation of different heat dissipating part to create an almighty thermal conduction power. Honeycomb dissipating vents are constructed on the top and the sides to increase the dissipating area. The honeycomb cells can achieve faster heat dissipation without occupying much space. Two heat spreaders and two heat sinks are installed to create a magnificent ventilating structure. Six heat pipes are implemented to conduct the heat to the thermal modules on the two sides of the system. This phenomenal combination can bring out the best dissipating effect.