HORUS428A -10GbE SAS RAID x 8 BAYS Core i7 Rackmount Storage Server


2U 19" Rackmount Server (MIL-STD-810G) Driven by Intel® Core i7-6700TE, 8 Bays 2.5" SSD/HDD, SAS RAID supported, Operating Temperature 0°C~50°C
NVIDIA® GTX950M (CUDA Cores: 640)/GTX 1050 Ti(CUDA Cores: 768)/GTX1060(CUDA Cores: /GTX1080 (CUDA Cores: 2560) GPU
MIL-STD 810G Compliance
Intel® 6th Gen. Core i7-6700
4 x DDR4 XR-DIMM up to 64GB
SAS RAID Card
4 x RJ45 LAN, 6 x USB, 1 x Diplay port, 1 x HDMI
8 x 2.5" Easy swap SSD/HDD Tray
Extended Temperature 0°C~50°C
NVIDIA® GTX950M (CUDA Cores: 640)/GTX 1050 Ti(CUDA Cores: 768)/GTX1060M(CUDA Cores: /GTX1080 (CUDA Cores: 2560) GPU
Technical Profile
Specifications
CPU Performance
SSD Performance
 Introduction
The rugged system HORUS428A powered by Intel® Skylake Core i7 6700 (4C x 3.4GHz up to 4.0GHz) which is designed and tested to meet the demand of a military level of ruggedness (MIL-STD-810G) and proven that the system are reliable (Anti-vibration & Shock, wide extended range operating temperature [0℃~50℃]) enough to operate under harsh environments. Also, the abundant I/O gives maximum flexibility on integrations and configurations with a wide variety of subsystems. Moreover, HORUS428A can  build in Areca ARC-1226-8i SAS RAID Card supports up to 8 bays SAS/SSD drives. HORUS428A is a system with outstanding CPU performances, rich and functional I/O, and maximized ruggedness, and certainly improves a quality of all ground, maritime, and aerial operations.

Unique Features

Advanced CPU (Intel® Skylake Core i7 6700)

HORUS428A is applied with one of the newest CPU, Intel® Skylake Core i7-6700 which is a microarchitecture using 14mn as same as its predecessor Broadwell. This 4 core 8 threads CPU runs at 3.4GHz clock speed as an average, yet it is able to process as 8 cores by the 8 threads architecture and accelerates up to 4.0 GHz by Intel® Turbo Boost Technology 2.0 during peak loads. As well as the incredible computing performance of Intel® 6th generation CPU.

The Best Thermal Design for the High-end CPU

PERFECTRON is a R&D oriented solution provider specializes in developing ruggedized systems that support high resistance to shock and vibration, and wide range extended operating temperatures from subzero to unusual high temperature. In order to handle the high TDP of Intel® Skylake Core i7 6700 (65W), we apply a special thermal design to HORUS428A called "dual-sides thermal design". And three different types of thermal modules (copper heat-spreaders, liquid-vapor heat-pipes, aluminum heat-sink) are applied on each side to achieve effective and efficient heat dissipation on both right- and left-sides.

Massive Storage Capacity

The feature of HORUS428A is not only its extraordinary performance, but also abundant I/O interfaces are another key feature of this rugged rackmount server. HORUS428A is equipped with 6 x USB (4 x USB3.0, 2 x USB2.0), 4 x LAN, 1 x display output. Additionally, 8 x massive storages (up to 2TB) are installed as removal SSDs by SAS RAID that can easily be swapped the storages without dismantling the system.
The System Main Board: ATX IMB-AB20

The Backbone of Rugged Server HORUS428A

The system main board AB20 is applied in HORUS428A has been developed by PERFECTRON which specializes in developing both ruggedized embedded boards and systems. This ruggedized ATX motherboard AB20 is powered by Intel® 6th Gen. Skylake ® Core™ i7-6700 processor and supports rugged memory XR-DIMM 64GB DDR4 and abundant I/O interfaces. It is powerful and rugged enough to operate under harsh environments as military uses.

Support Intel® Core™ i7-6700 Processor
4 x XR-DIMM DDR4 up to 64GB
Expansion: 1x PCIe(x16), 4 x mPCIe (Supports 2 x mSATA), 6 x SATAIII
2 x USB 2.0, 4 x USB 3.0, 4 x GbE, 6 x COM
Multi Display: Supports VGA, HDMI, DisplayPort
Extended Operating Temp.: -40°C~85°C

 
Operating Temp.

0°C to 50°C

System

CPU

Intel® Core i7-6700TE Processor

Chipset

Q170

Memory Type

4 x DDR4 XR-DIMM up to 64GB

BIOS

AMI® SPI BIOS

Expansion Slot

4 x mPCIe (two support with mSATA)
1 x PICex4

Storage Device

8 x 2.5" SAS HDD/SSD Tray

Display

Chipset

Intel® HD Graphics 500 Series

Display Type

1 x DisplayPort ;
1 x HDMI

Ethernet

Chipset

3 x Intel® I210-IT ; 1 x I219-LM GbE LAN
(support 10/100/1000 Mbps for RJ45 port)

WOL

Yes

Boot from LAN

Yes for PXE

Rear I/O

Ethernet

4 x RJ45 Gigabit Ethernet LAN Interfaces

Display

1 x HDMI ; 1 x DisplayPort

FAN

2 x Exhaust FAN

USB

4 x USB3.0 standard-A connectors

DC-IN

12V DC-IN, 8-Pin Terminal block

Front I/O

Button

1 x Power Button w/Indicator LED

Indicator LED

1 x HDD LED

USB

2 x USB2.0 standard-A connectors

2.5" SSD/HDD Tray

8 (Height up to 15mm)

OS support list

Windows

Windows 8 x32/x64、Windows 8.1 x32/x64、Windows 10 x32/x64

Linux

Fedora 20、Ubuntu 13.04、Ubuntu 13.10、Ubuntu 14.04

Mechanical and Environment

Form Factor

ATX

Power Type

DC-IN 12V

Dimension

430 x 88 x 377 mm

Weight
13.65kg(30.09lbs)

Operating Temp.

0°C to 50°C (ambient with air flow)

Storage Temp.

-20°C to 70°C

Relative Humidity

5% to 95%, non-condensing
The HORUS428A offers highly effectively heat conductive and heat convective thermal solutions to meet the demands of customers' extended temperature requirements. The heat conductive solutions uses an aluminum flat mass to place in direct contact with the processor and chipset, the heat from chips then transfers it to the case of the system. In addition, the convective thermal solutions introduce airflow directed to move across the surface of a fin style heatsink placed on top of the processor and chipset. This can be done with the aid of an appropriately sized fan placed in top of the fin style heatsink. Alternately, enclosure airflow can be routed to flow across a fin style heatsink.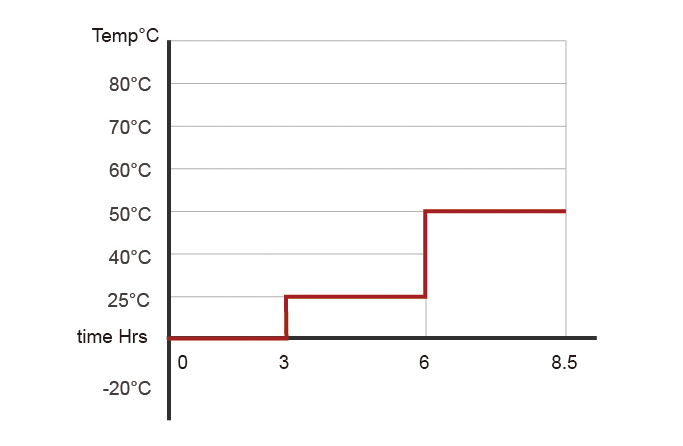 | | |
| --- | --- |
| Device Model | HORUS428A |
| Tester | Robin Chang |
| Test Result | Pass |
| Test Temperature | High 0°C~50°C |
| Test Time | 8.5 Hours |
| Test Standard | Reference IEC60068-2 |
| Test Software | Burnin test v6.0 |
| Criteria | After testing, system can't halt. |
Test Configuration

Device

Configuration

CPU Type

Intel® Core i7-6700TE 2.4GHz

PCH

Intel Q170

Memory

2 x DDR4 2133 XR-DIMM up to 16GB

Memory

2 x DDR4 1888 XR-DIMM up to 16GB

LAN1

Intel® I219 GbE LAN

LAN2

Intel® I210 GbE LAN

LAN3

Intel® I210 GbE LAN

LAN4

Intel® I210 GbE LAN

Test Software

Burnin test v6.0、AS SSD、 Intel Extreme Tuning Utility、
iperf GPU-Z、FurMark v1.9.2

Chamber

KSON THS-b4t-150 Chipeng SMO-3
Thermal Measurement

STACKRACK provides real lab testing figures to show how CPU performance is with each tailor made thermal kits as important references and design guide for system engineers. For system integration, the crucial challenge is the operation performance under high temperature, thus STACKRACK conducts long time experiments to make sure the superior testing result for all critical missions. By revealing temperature at processor T junction, processor die and heat sink, STACKRACK is able to analyses the thermal solution we designed achieves maximum efficacy and observe CPU performance. The high temperature testing takes 5.5 hours which at each temperature point we burn in HORUS428A for two hour, from 40°C to 50°C.

HORUS428A System - IO Performance

| | | | |
| --- | --- | --- | --- |
| Point | 0°C | 25°C | 50°C |
| CPU T-J | 53 | 76 | 87 |
| CPU Die | 30 | 60 | 75 |
| Heatsink | 24.3 | 56 | 73.2 |
| Δ1=(TJ-Die) | 23 | 16 | 12 |
| Δ2=(Die-Sink) | 5.7 | 4.0 | 1.8 |
| CPU Frenquency (GHz) | 3.69 | 3.68 | 2.99 |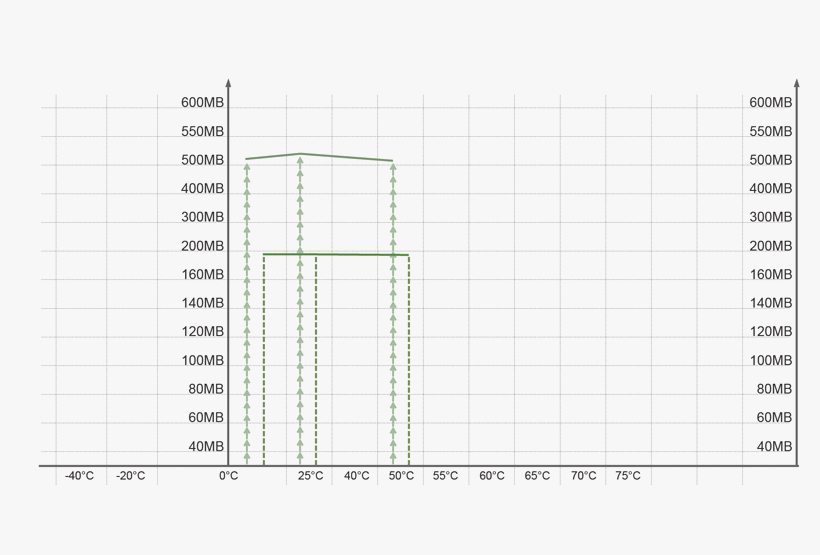 Test Result

Innodisk 2.5" SATA SSD 64GB (Read) MB/s

Innodisk 2.5" SATA SSD 64GB (Write) MB/s
HORUS428A MB HeatSink - IO Performance
| | | | |
| --- | --- | --- | --- |
| Point | 0°C | 25°C | 50°C |
| Innodisk 64GB SSD (Read) MB/s | 505.2 | 518.0 | 505.8 |
| Innodisk 64GB SSD (Write) MB/s | 192.9 | 195.2 | 193.8 |