SR800-X1 GPGPU Radar Subsystem by NVIDIA QUADRO P3000 and Intel® Xeon® D-1577
IP65 VMware GPGPU rugged workstation with NVIDIA QUADRO P3000 , Intel® Xeon® D-1577 Processor (16 Cores), 128GB DDR4 ECC RDIMM, MIL-DTL-38999 , MIL-STD 461/1275 Compliant
16 Cores INTEL ® Xeon® D-1577  VMware Support

128GB DDR4 ECC RDIM

Quadro P3000 MXM Support

Dual Removable 2.5" SSD Tray

MIL-STD 461/1275 18V~36V DC Input

M12/ DTL38999 Connector
Technical Profile
Specifications
Certification
 

Introduction

Modern Radar Sensor systems are being deployed to carry out multi-tasking for detection and tracking of several objects simultaneously. Active Electronically steered phased array technology is the key element being utilized for design and development of these modern radar systems. A radar system receives digitized video data from receivers and carries out a set of highly compute intensive Data / Signal Processing activities. The GPGPU provides a simple and easily implementable parallel software architecture paradigm using general purpose programming languages like C / C++. The entire data / signal processing task can be realized as a sequence of software activities taking the advantage of very high throughput possible with the GPUs.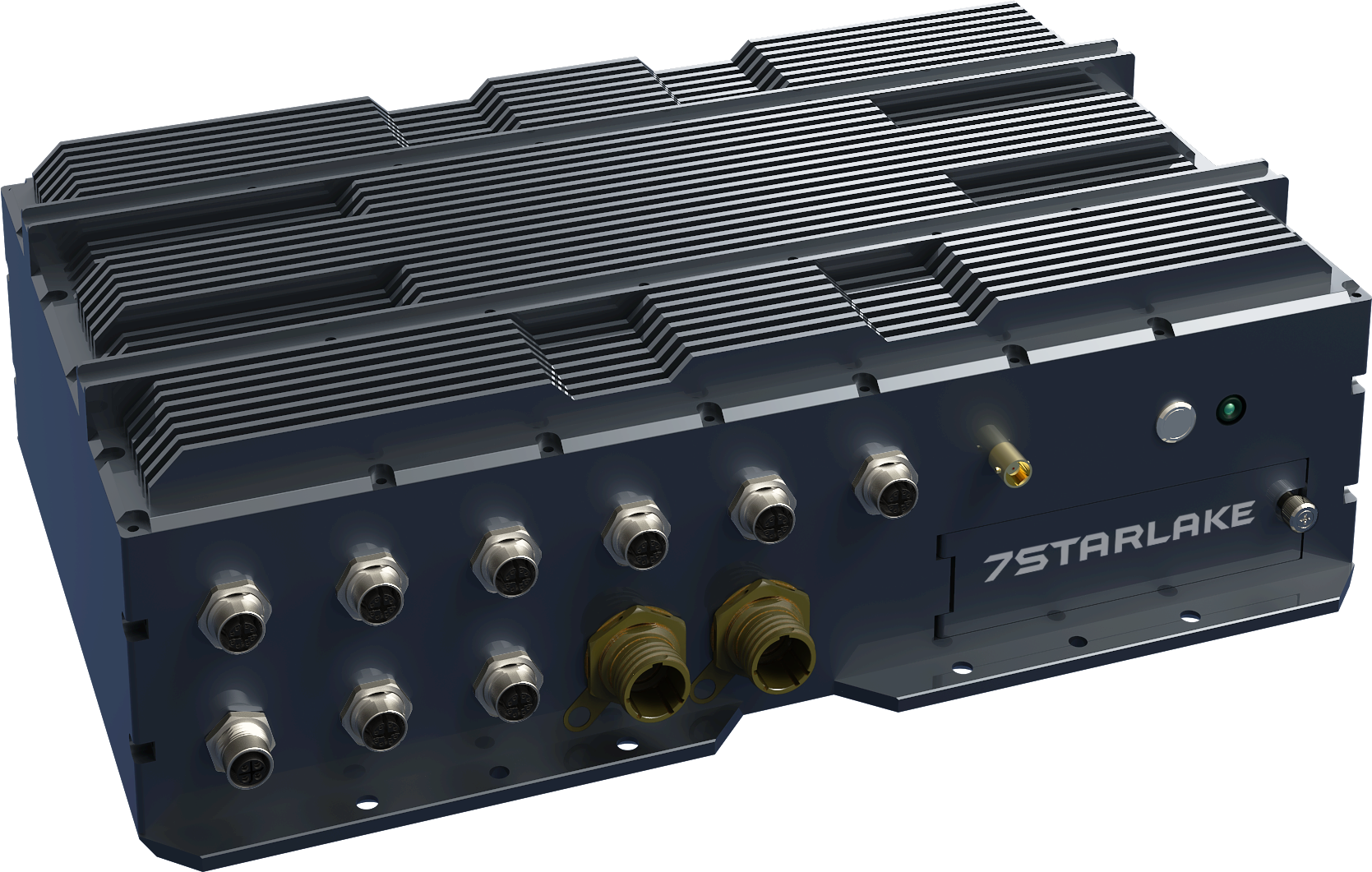 The SR800-X1 equipped Ultra-High Performance Intel® Xeon® D-1577 is fully qualified IP65 with D38999 connectors which can offer the highest performance capabilities and ready to handle multiple applications in harsh environments. SR800-X1 is designed to meet strict size, weight, including temperature extremes, shock/vibe, sand/dust, and salt/fog.
SR800-X1 is MIL-461/1275 EMI/EMC compliant  rugged workstation. It passes numerous environmental tests including Temperature, Altitude, Shock, Vibration, Voltage Spikes, Electrostatic Discharge and more. The sealed compact chassis shields circuit cards from external environmental conditions such as sand, dust, and humidity.

Ultra-High Intel® Xeon® D Processor ( 16 Cores, 32 Threads, 24MB Cache )

Broadwell DE:

Intel® Xeon® processor D-1500 product family offers hardware and software scalability from two up to sixteen cores, making it the perfect choice for a broad range of high-performing, low-power solutions that will bring intelligence and Intel® Xeon® reliability, availability, and serviceability (RAS) to the edge.
 

Enhanced performance per watt:

Intel® Xeon® processor D-1500 product family delivers exceptional value and unmatched performance density per watt. Its TDP of 19W to 65W, industry-leading 14 nm process technology and a compute-only design make it ideal for meeting the diverse needs of customers seeking mid-range low-power, high-density solutions.
 

Enabling more IoT Use Cases:

The Intel® Xeon® processor D-1500 product Family drives a host of new IoT opportunities for a wide range of environments, while addressing real-time optimization, and workload consolidation. Its temperature rating spans from -40°C to 85°C operating ambient conditions, which establishes new possibilities for Intel® architecture in markets that require robust products, like aerospace and industrial. 

 
Accordion title 1

MIL-STD-1275/704 Power Supply with Voltage Transient Protections

SR800 is designed with MIL-STD-1275/704, protecting against vehicle/aircrafts voltage surges, spikes and transients, and even electromagnetic interference. This characteristic is well suited for the strictest military requirement and deliver optimal performance in harsh conditions.
The GAIA Hi-Rel DC/DC CONVERTER it also provides under voltage Lockout (UVLO), Output over Current Protection (OCP), Output Overvoltage Protection (OVP) and Over Temperature Protection (OTP) to made stability and safety.

Dual Removable SSD ( Solid-state Disk )

The dual Removable SSD (Solid-state Disk) provide a compact self-contained system to store and retrieve data from ruggedized and removable 2.5" Flash Disks and have been qualified to meet the most demanding MIL-STD-810 environments. The dual Removable SSD Disk System is the perfect DTU for military, aerospace, avionics and ground vehicle systems. These systems include flight management, cockpit instrument display, terrain awareness and warning, map systems, radar systems, cockpit/ground communications, navigation positioning, and satellite communications.

Hardware Secure Erase

Under emergency situation, when written data is required to be erased immediately, a Secure Erase Button is extremely indispensable. Instant Erase is a particular feature for SED ( Self Encryption Drive ) drive. It's faster than Quick Erase to make all written data invalid. The encryption and decryption is controlled by an AES key on the path; once the AES key is replaced by a new one, the data becomes unrecognizable.

DTL38999 connectors offer the highest performance capabilities and reliability for both general duty and severe environment applications. This cylindrical connector family designed for cable-to-panel I/O applications in military, aerospace and other demanding hazardous situations. DTL38999 connectors are capable of operation within a temperature range -65 to 200°C. They are lightweight and can stand up to environmental challenges. Made with removable crimp or fixed hermetic solder contacts, these connectors provide high-vibration characteristics and are suitable for severe wind and moisture problem areas.

Patented Thermal Solution

7starlake designs a unique enclosure that is able to stack together both horizontally and vertically. The aluminum heat sink enclosure of SR800 allows top heat dissipation. 7starlake exclusively adopts special heat radiating material and combining with special CNC cutting, further forged into a lavish sophisticated metal.
Operating Temp.

0°C~55°C 

System

Model
SR800-X1
CPU
Intel® Xeon® Processor D-1577 (Frequency 1.3GHz, Turbo Boost Frequency up to 2.1GHz), 16-Core,
32 Thread Support, 24MB Smart Cache.
Build-in Turbo Boost Technology 2.0, VPro and Hyper-Threading
Memory
support.DDR4 -RIM128 GB

Display

GPU
Quadro P3000 MXM module (MXM)

Storage

SSD/HDD
Dual Reomable 2.5" SATA Tray

I/O

LAN

2 x M12 connector, 10 Gbe

2 x M12 connector GbE

IPMI
1 x M12 connector
USB
3 x M12 connector ( 6 USB Ports)
DVI
2 x MIL-38999 22Pin connector (Amphenol TV07RW-13-35S)
Power
1 x M12 connector
12G-SDI
1 x BNC connector

Applications, Operating System

Applications

 

MIL-STD-810F Test

 

MIL-STD-810G Test

 

Operating Tests

 

 

 

 

Low Temperature

Method 502.4

Procedure 2

0°C, 4 hours, change rate:≦20°C.

Method 502.5

Procedure 2

exposure(24h x 3 cycle) at -40℃ min.

High Temperature

Method 501.4

Procedure 2

+50°C, 4 hours, change rate:≦20°C.

Method 501.5

Procedure 2

60ºC for 2 hours after temperature stabilization.

Humidity

Method 507.4

85%-95% RH without condesatin, 24 hours/ cycle, conduct 10 cycle.

Method 507.5

Procedure 2

RH -95%. Test cycles: ten 24-hours , functional test after 5th and 10th cycles

Vibration

Method 514.5

Category 4,

figure 514.5C-3

5-500Hz, Vertical 2.20Grms, 40mins x 3axis.

Method 514.6

Category 20

10—500Hz 1.04Grms
Test duration: 1 hours x 3 axis (total 3 hours)

Shock

Method 516.5

Procedure 1

20 Grms, 11ms, 3 axes.

Method 516.6

Procedure 1

20G, 11mSec, 3 per axis

 

Non-Operating Tests

 

 

 

 

Low Temperature Storage

Method 502.4

-33°C, 4 hours, change rate:≦20°C.

Method 502.5

exposure(24h x 7 cycle) at -40℃ min.

High Temperature Storage

Method 501.4

Procedure 1

+71°C, 4 hours, change rate:≦20°C.

Method 501.5

Procedure 1

71ºC for 2 hours after temperature stabilization.

Vibration

Method 514.5

Category 4,

figure 514.5C-3

5-500Hz, Vertical 2.20Grms, 40mins x 3axis.

Method 514.6

Category 24

200 to 2000Hz
Test duration: One hour per axis; rms = 7.7 gs

Shock

Method 516.5

20 Grms, 11ms, 3 axes.

Method 516.6

Procedure V

40G, 11ms, 3 pluse.

 

 

 

 

 

EMC/EMI

MIL-461/1275

18V-36V 300W

 

 

Physical

Dimension ( W x D x H )
400 x 230 x 120 mm ( W x D x H )
Power Requirement
18V~36V DC-IN x 1 (with M12 connector)
Ingress Protection
IP65
Operating Temp.
0°C to 55°C
Storage Temp.
-40°C to 85°C
Relative Humidity
5% to 95%, non-condensing
System Design
Conduction Cooing