Cloud12 -P28 Rugged Panel Computer with 28 Programmable Function Keys
IP65 Defense Panel Computer, 28 Programmable Function Keys with Intel Xeon E Processor, MIL-461/1275 EMI Filter
5-wire resistive touch w/Anti-scartch surface
Heavy-duty fully IP65 Rugged aluminum chassis with MIL-DTL-38999 connectors
1000 nits , compatible with Sunlight Readable
12.1"/15'' Glass-Film-Glass Touch panel
DC-IN 9V~36V
Multi user Programmable function keys
Meets MIL-STD-461, MIL-STD-1275, MIL-STD-704, MIL-STD-810G
Extended Temperature -30 to +60°C
Technical Profile
Specifications
 Introduction
STACKRACK offers Cloud12, a ruggedized mission critical panel computer, which can be integrated with different types of sensors: High resolution Wide-angle video camera, Forward and Rear looking infrared camera, Crosswind sensor…etc. Despite camera and video distribution system running from day to night, 24hrs, Cloud12 is able to handle with heavy data transmission under high temperature environment while maintaining high-computing performance. For Intel® Xeon E3-1505L V5 processor, it can run full speed without throttling up to 40oC. Also, we adopt NVIDIA Geforce GTX1050 graphic card that performs remarkable image processing and visual displays. To simultaneously connect, receive, and process information efficiently, a computer with CPUGPU structure is needed. Cloud12 can be applied in both land vehicles and naval vessels. It supports soldiers and operators to take immediate and accurate action in every mission, meeting the requirement of situational awareness in real time.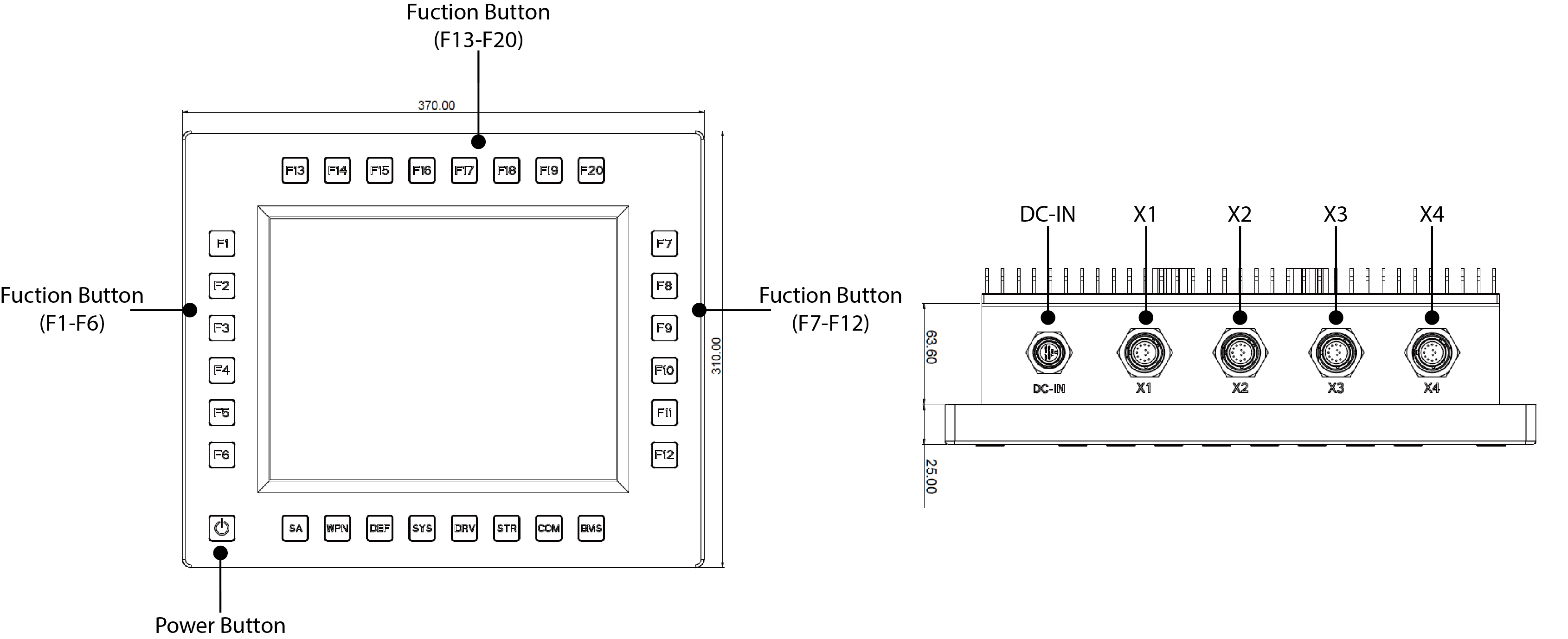 Unique Features

MIL-STD-461

MIL-STD-461 is a military standard that establishes electromagnetic interference (EMI) limits and test procedures for military equipment. EMI consists of any undesired signals, "noise", generated by electronic equipment. Keeping EMI under control is critical for military applications. It can cause interference with other equipment and be detected by the enemy.

Super Brightness 1000nits

Under direct, bright sunlight, it has a great chance that screen looks washed out or becomes invisible. Operators cannot read information easily, losing the capability of situational awareness. What's worse is that commander will be misguided by wrong interpretation, resulting in harmful decision making. To avoid the risk, Cloud12 features a far greater number of LED backlights than standard monitors to increase the screen brightness to 1,000 nits (cd/m²).

28 multi-function programmable keys

A programmable function key is capable of being programmed to perform a specific task. These specialty keyboards require extra software that enables these keys to be programmed. Cloud12 is equipped with up to 28 ruggedized function keys made by rubber-tooling and with dimension 16 x 16 mm for each key ad, allowing multiple and flexible utility for users. Regardless the application in navigation or surveillance of marine, aviation and military ground vehicle, the programmable function keys are believed to provide convenient and efficient user surface under quick pace of critical battle mission.
Operating Temperature

-30 to 60°C (ambient with air flow)

System

CPU

Intel® Xeon E3-1505L V5 Processor (4C x 2/2.8 GHz), 8M Cache (25W)

Memory

2 x DDR4 up to 32GB ECC memory

Storage

1 x mSATA Solid State Disk (SSD) - up to 512GB Capacity

1 x 2.5'' SSD up to 2TB

Rugged Industrial NAND Flash Storage -40 to 85oC High Capacity

Dimension (W x D x H)

370 x 110 x 310mm (w/o Stand)

I/O Connectors (customized requirements)

MIL-STD-D38999 Amphenol connectors

LAN x 2, DVI x 1, USB x 1, COM x 2, DC-IN x 1

Power Input

DC-IN 9 ~ 36V

Optional: MIL-STD-1275, MIL-STD-704 and DO-160 power supply, 12 to 40V (150W max)

Display

GPU

NVIDIA GeForce GTX950M (Cuda Cores:640)

LCD Panel

12.1" TFT LCD

Resolution

1024x768 XGA

Aspect Ratio

4:3

Brightness

Ultra Brightness 1000 nits

Max. Colors

16.7M/262k

Viewing Angle

80° (H) /70° (V)

Response Time

11ms (TYP.)

Contrast Ratio

1000 (TYP.)

Touch Panel

Glass-Film-Glass 5-Wire resistor touch panel

Function key

28 user Programmable function keys

Display Control

Power On/Off

LCD Brightness Off/+/-

Compliance, Operating System

Compliance

MIL-STD-461E :

CE102 basic curve, 10kHz – 30MHz

RE102-4, (1.5MHz) – 30MHz – 5GHz

RS103, 1.5MHz – 5GHz, 50 V/m equal for all

MIL-STD-1275E :

5.1.2 Starting operation

5.1.3.1.2 Emitted voltage spikes

5.1.3.2.2 Voltage surges

5.1.3.1.1 Voltage spikes

5.1.3.2.1 Voltage surges

5.1.1.2 Voltage ripple

MIL-STD-810G :

Harsh Temperature, Shock, Vibration, Altitude and Dust

Operating System

Windows 10 64bit

Ubuntu16.04, Ubuntu14.04, Fedora 28

Physical

Chassis

Aluminum Alloy, Corrosion Resistant

Finish

Anodic aluminum oxide (Color Desert Yellow)

Ingress Protection

IP65 Dust /water Proof

Environmental Qualifications

Reliability

No Moving Parts; Passive Cooling.

Designed & Manufactured using ISO 9001/2000 Certified Quality Program

Green Product

RoHS, WEEE compliance