StackRack proudly introduces a New 19" 1U Rack-mount Rugged Fanless AC-DC Redundant Server ROC285BB powered by Intel 9th Gen. Core i7-9700TE!
StackRack proudly introduces a New 19" 1U Rack-mount Rugged Fanless AC-DC Redundant Server ROC285BB powered by Intel 9th Gen. Core i7-9700TE!
Taipei, Taiwan
November 15, 2019
     90V to 260V AC-in, AC-DC Redundant Server, Extended Temp. -20 to 60°C


The need for data security in Big Data era
In the Big Data era there are billions of bits of data produced every single day. Thus, the status of Data Centers becomes much more important. A data center centralizes an organization's IT operations and equipment, as well as where it stores, manages, and disseminates its data. Because Data centers house a network's most critical systems and are vital to the continuity of daily operations, it's important to keep data centers operating normally. However, some issues, such as power quality, can cause equipment failure, downtime and data corruption. How to handle volumes of data while securing it becomes one of the most important concerns when choosing an ideal server for data processing.


Considering the concerns that customers may have, the professional rugged computer designer, STACKRACK, brings out a new 19" 1U rack-mount rugged fanless server ROC285BB with AC-DC redundant power supply, which is extremely important to secure data in the case of failures. As a 1U rack-mount server, ROC285BB provides the most cost effective and high density solutions. What's more, fanless cooling system with no moving parts is designed as a great thermal solution. It not only ensures internal stability, but also improves anti-dust capability.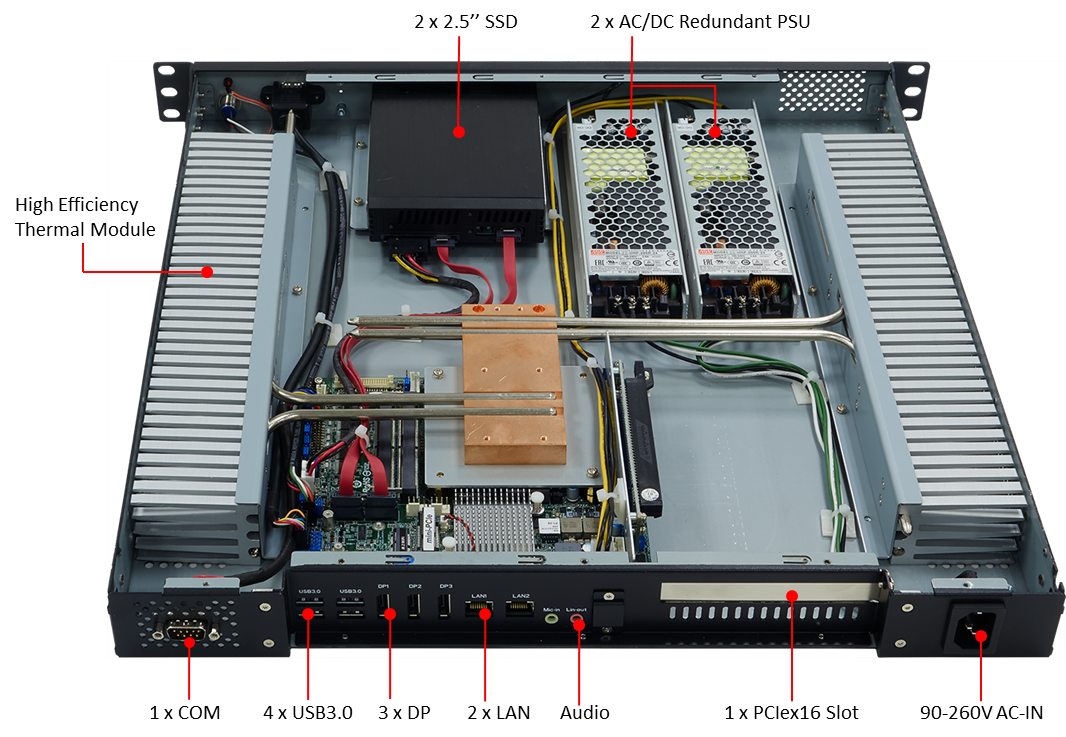 High efficient I/O design
On the other hand, ROC285BB equipped with high efficient I/O design, composing dual Gbit Ethernet, 3 x DP (resolution up to 4096 x 2304), SuperSpeedPlus USB 3.0 ports (10Gb/s). Efficient connection gives ROC285BB the opportunity to exchange information in real time and deliver the data to required platforms without postponement.
High-End Processing Units
Based on Intel® Coffeelake 14nm Core™ Q370 Chipset, ROC285BB can be processed by Intel® Coffeelake-Refresh i7-9700TE (8 cores, 3.8GHz) processor. Compared with previous generations, i7-9700TE processor contains much more compute cores, which means the better performance of computations on the data and much more fast memory caches which are responsible for holding data that is currently being worked on. So, ROC285BB could offer unique entrepreneur-class capabilities and killer speed while dealing with a large amount of data.
Also, ROC285BB provides PCIe x16 expansion for high speed delivering, like RAID card, graphic card or 10GbE…etc.
Sensor Fusion Capability:
By adding graphic card, the complete system could fulfill powerful CPU+GPU to support sensor fusion, which requires a powerful processing unit to be in the center, where all the raw data from the sensors is processed. Interpreting the data and deciding how to react, CPU+GPU can make sensors to be truly "smart" sensors and lead the whole system to work accurately.
Large Capacity Storage and an advantage of data backup plan:
By adding RocketRAID 4520SGL SAS RAID Card or RocketRAID 840A SATA RAID Card, ROC285BB can expand up to 8 Bays SAS or 12 Bays SATA RAID. By using a large numbers of drives ROC285BB is able to increase a great amount of storage. Moreover, ROC285BB can build a RAID system to increase HDD fault tolerance. In data security, RAID refers to the way which an array of hard disks creates redundant backups of the data, so data can be retained even in the event of a catastrophic system failure.
High Capacity RAM support:
Further more, two SO-DIMM, dual channel DDR4 are designed in our rugged server, increasing the RAM of ROC285BB up to 64GB and providing the best operating performance in such a compact size. These features make the ROC285BB an ideal rack-mount server for industrial embedded applied computing application, including commercial and industrial platforms, process control, intelligent automation and manufacturing applications.
AC-DC Redundant PSU – Proven reliability
ROC285BB equipped with redundant AC input power supply desinged as a fail-safe solution. When one power supply (PSU1) fails, PSU2 keeps providing the entire power needs for system. This redundant power system helps ROC285BB to reduce the concern of morden data centers and it is able to work well in unpredictable situation.
Wide Range AC-DC Power Input
Also, wide range AC to DC power input is a characteristic of ROC285BB. Ranging from 90V to 260V, ROC285BB allows the system to be utilized in extensive power types. The design of wide power range keeps the system's reliability and you can expect longer life-span as well. Sudden drop or surge of power posts absolutely no threat to this smart system.
Extended Temperature Range ensures the reliability of the equipment
With STACKRACK's extraordinary research and perfect design, ROC285BB can successfully operate from -20°C to 60°C degrees, and with our special industrial extended range of temperature layout, it can also reduce the potential computer glitches caused by hardware incompatibility and losses of connectivity caused by shock and vibration.
With further advantages, for excample, HDD/ SSD easy swap tray and multi-expansion slot, we believe that ROC285BB is a best choice for those, who are looking for an ideal server to meet the requirements of commercial and industrial platforms, process control, intelligent automation and manufacturing applications.

ROC285BB
Main Features:
Intel®

Coffeelake- Refresh i7-9700TE (8 cores, 3.8GHz)

2 x SO-DIMM DDR4 2400/2666 MHz up to 64GB

1 x PCIe x16, 1 x Full/Half mPCIe

1 x M.2(Key E), 1 x M.2(Key M) expansion slot

High efficient I/O 4 x USB3.0, 3 x DisplayPort, 2 x LAN, 1 x Line-out/Mic