SR200-X3 - Intel i7-7820EQ, NVIDIA 950M GPU Server
Intel® QM175 MIL-STD Fanless Rugged System with Intel® Core™ i7-7820EQ Skylake Processor, NVIDIA GTX950MGPU, 4 Independent DisplayPort, 9V to 36V DC-in, Extended Temp. -40°C to +60°C
MIL-STD 810G Compliance
7th Generation Intel® Core™ i7-7820EQ Skylake Processor
Up to 32GB DDR4 RAM
Onboard uSSD SATAIII up to 64 GB
NVIDIA GTX950M Independent Displays by 2 x DP
2 x mPCIe expansion slot (One Co-Layout with mSATA)
2 x Intel® Gigabit Ethernet
4 x USB 3.0, 1 x COM port
9V to 36V DC-Input
Extended Temperature -40°C~+60°C
Technical Profile
Specifications
CPU Performance
SSD Performance
Certification
Video
Introduction
SR200-X3, EBX rugged system is a powerful system that is driven by Intel® 7th generation Kabylake CPU and chipset soldering onboard, integrated with Nvidia GPU GTX950M that supports 2 independent DisplayPort. Processor i7-7820EQ plus Intel® QM175 chipset supports clock speed 2.8GHz, up to 3.5GHz. Quad cores, turbo up to 8 cores to cope with enormous data computing. Apart from computing power, the system is able to survive in harsh environment from -40 to 60°C, and ruggedness for vibration and shock is proven to pass MIL-810G standard. With the combination of high CPU computing power and rich display inputs, SR200-X3 is a perfect portable solution for rugged consoles & workstations, transportation, defense control room to share instant and accurate information on huge screen for in-time solutions.

Thermal solution for fanless system design

STACKRACK designs a unique enclosure that is able to stack together both horizontally and vertically. The aluminum heat sink enclosure allows dual-sided heat dissipation. STACKRACK exclusively adopts special heat radiating material and combining with special CNC cutting, further forged into a lavish sophisticated metal. Apart from the special heat sink enclosure, SR200-X3 innovatively adopts two kinds of copper heat spreader. The shape and the size of the spreader are tailor-made based on the heat sources placement of CPU module and graphic module. In view of the gap difference between motherboard and heat sink, STACKRACK builds two heat spreaders in different thicknesses. Combining all these exclusive thermal designs can alternatively replace traditional fan, and also ensures high reliability and stability while working under wide range temperature from -40°C to 60°C
System main board: EBX SBC-OXY5739A

1. Intel® Core i7 CPU soldering onboard

SR200-X2 is based on EBX SBC—OXY5740A, powered by Intel Kabylake i7-7820EQ quad core processor plus QM175 chipset soldered onboard. With CPU soldering onboard, there is less conduction of heat and high density interconnection between the motherboard and the components, which reduces the MB from the crisis of overheating. Apart from overheating, soldering onboard also provides the best level of shock and vibration protection, removing the unnecessary concern about poor connection that CPU socket type may bring.

2. Two Independent DisplayPort

SR200-X3 has added on NVIDIA graphic card through PCIe/104 interface, supporting 4 independent DisplayPort which is driven by GPU GTX950M. GTX950M itself has high CUDA640 points, representing its high computing performance and consumes power at 55W maximum. Connecting by PCIe/104 interface which enhance the resistance of shock and vibration as the connector allows nearly seamless connecting.

3.Wide Range DC input

For military and heavy duty vehicle applications, instable voltage always brings headaches about damaging the electric components. SR200-X3 supports 9V to 36V DC-in, the flexible acceptance of inconsistent power input makes it capable of surviving tough engine cranks and transient over-voltage situations.
Operating Temp.

-40°C to 60°C

System

CPU

Intel® Core™ i7-7820EQ Processor (8M Cache, up to 3.70 GHz), 45W

GPU

GeForce GTX 1050 Ti

CUDA Cores 768

Memory Interface GDDR5

Standard Memory Config 4 GB

Chipset

Intel® QM175

Memory Type

Up to 32GB DDR4 RAM

NAND Flash

64 GB SATA SSD onboard

BIOS

AMI® UEFI BIOS

Super I / O

ITE8786

Watchdog

1-255 sec. or 1-255 min. software programmable, can generate system reset

Expansion Slot

1 x Full-size mPCIe ( w / SIM card and mSATA supported )
1 x Half-size mPCIe

Display

Chipset

NVIDIA GTX950M

Display Type

Resolution up to 3840 x 2160@60Hz

DVI-I

Resolution up to 1920 x 1200@60Hz

Ethernet

Chipset

Intel® I210-IT & I219-LM GbE LAN
( support 10 / 100 / 1000 Mbps for RJ45 port )

WOL

Yes

Boot from LAN

Yes for PXE

Rear I/O

Ethernet

2 x RJ45 Gigabit Ethernet LAN Interfaces

DisplayPort

2 x 20Pin DisplayPort connectors ( Female )

USB

2 x USB3.0 standard-A connectors

DVI-I

1 x 29Pin DVI-I connector ( Female )

Audio

2 x 3.5mm Audio Jacks ( 1 x MIC, 1 x Line-Out )

Serial Port

1 x DB9 connector ( RS-232 / 422 / 485 )

Front I/O

Button

1 x Power Button

Indicator LED

Power, HDD, LAN ( Link / Active / Speed )

DisplayPort

2 x 20 Pin DisplayPort connectors ( Female )

USB

2 x USB3.0 standard-A connectors

DC-IN

4P Rugged Terminal connectors

OS support list

Windows

Windows 8 x32 / x64、Windows 8.1 x32 / x64、Windows 10 x32 / x64

Linux

Fedora 20、Ubuntu 13.04、Ubuntu 13.10、Ubuntu 14.04

Mechanical and Environment

Form Factor

EBX

Power Type

9V to 36V DC-IN

Weight
4.3 Kg (9.47 lbs)

Dimension

308 x 149 x 76mm

Operating Temp.

-40°C to 60°C ( ambient with air flow )

Storage Temp.

-40°C to 85°C

EMC

CE and FCC compliance
The SR200-X3 offers highly effectively heat conductive and heat convective thermal solutions to meet the demands of customers' extended temperature requirements. The heat conductive solutions uses an aluminum flat mass to place in direct contact with the processor and chipset, the heat from chips then transfers it to the case of the system. In addition, the convective thermal solutions introduce airflow directed to move across the surface of a fin style heatsink placed on top of the processor and chipset. This can be done with the aid of an appropriately sized fan placed in top of the fin style heatsink. Alternately, enclosure airflow can be routed to flow across a fin style heatsink.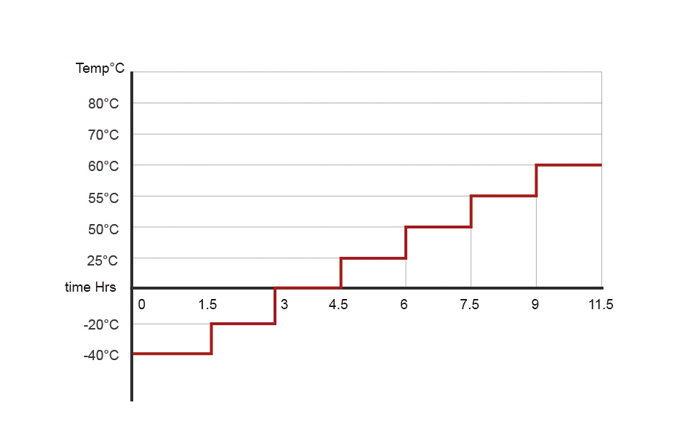 | | |
| --- | --- |
| Device Model | SR200-X3 |
| Tester | Robin Chang |
| Test Result | Pass |
| Test Temperature | High 0°C~60°C / Low -40°C~0°C |
| Test Time | 11.5 Hours / 3 Hours |
| Test Standard | Reference IEC60068-2 |
| Test Software | Burnin test v6.0 |
| Criteria | After testing, system can't halt |
Test Configuration

Device

Configuration

CPU Type

Intel® Core i7-7820EQ 3.70GHz

PCH

Q170

Memory

1 x DDR4 2400 XR-DIMM up to 16GB w/ECC

Memory

1 x DDR4 2400 SO-DIMM up to 16GB w/ECC

Graphic

NVIDIA GTX950M

LAN1

Intel® I219 GbE LAN

LAN2

Intel® I210 GbE LAN

Test Software

Burnin test v6.0、AS SSD、 Intel Extreme Tuning Utility、
iperf GPU-Z、FurMark v1.9.2

Chamber

KSON THS-b4t-150
Chipeng SMO-3
Thermal Measurement

STACKRACK provides real lab testing figures to show how CPU performance is with each tailor made thermal kits as important references and design guide for system engineers. For system integration, the crucial challenge is the operation performance under high temperature, thus STACKRACK conducts long time experiments to make sure the superior testing result for all critical missions. By revealing temperature at processor T junction, processor die and heat sink, STACKRACK is able to analyses the thermal solution we designed achieves maximum efficacy and observe CPU performance. The high temperature testing takes 9 hours which at each temperature point we burn in SR200-X3 for two hour, from 40°C to 60°C.

SR200-X3 MB HeatSink - IO Performance

OXY5740+NV1050Ti

CPU

i7-7820EQ 3.0GHz 45W

GPU

NVIDIA 1050Ti 75W

Ambient temperature

25°C

50°C

55°C

60°C

CPU Temp.

97°C

100°C

100°C

100°C

CPU Frenquency (GHz)

3.34GHz

2.84GHz

2.84GHz

2.46GHz

GPU Temp.

82°C

90°C

96°C

96°C

GPU Frenquency (GHz)

1.57GHz

1.3GHz

1.2GHz

835MHz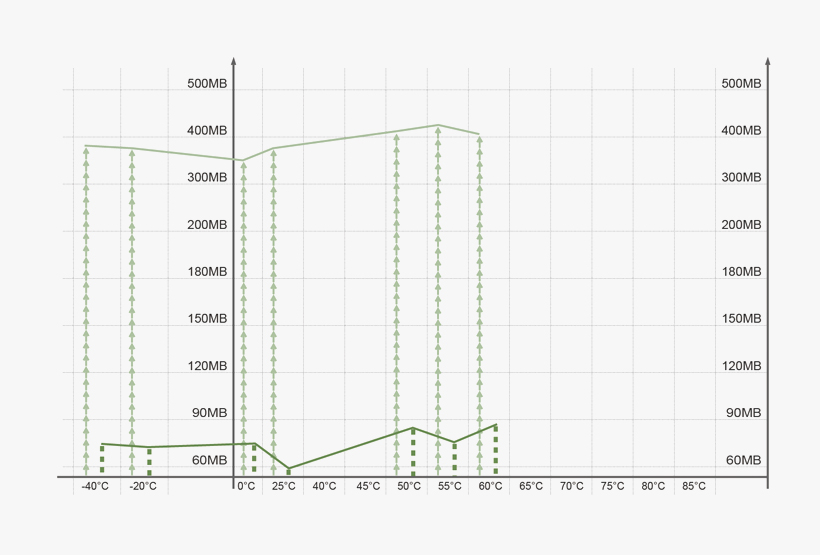 Test Result

SSD 64GB (Read) MB/s

SSD 64GB (Write) MB/s
SR200-X3 MB HeatSink - IO Performance
| | | | | | | | |
| --- | --- | --- | --- | --- | --- | --- | --- |
| Point | -40°C | -20°C | 0°C | 25°C | 50°C | 55°C | 60°C |
| 64GB SSD (Read) MB/s | 386 | 389 | 361 | 389 | 407 | 423 | 401 |
| 64GB SSD (Write) MB/s | 74 | 70 | 75 | 53 | 88 | 73 | 86 |