HORUS330-X1 - Intel® Core i7 MXM GPUCPU server
1.5 U Fanless Rugged GPU Server Intel® 7th Gen. Processor, MXM Graphic Card, 9V to 36V DC-in, Operating Temp -20°C to 60°C.
NVIDIA® GTX950M (CUDA Cores: 640)/GTX1050(CUDA Cores: 640)/GTX 1050 Ti(CUDA Cores: 768)/GTX1060 (CUDA Cores: 1280) GPU
Intel® 7th Gen. Core i7-7820EQ
2 x DDR4 SO-DIMM up to 32GB
MXM Graphic Card support
2 x RJ45 LAN, 6 x USB
2 x 2.5" Easy swap SSD/HDD Tray
2 x I/O Expansion Design
Extended Temperature -20°C~60°C
NVIDIA® GTX950M (CUDA Cores: 640)/GTX1050(CUDA Cores: 640)/GTX 1050 Ti(CUDA Cores: 768)/GTX1060 (CUDA Cores: 1280) GPU
Technical Profile
Specifications
CPU Performance
SSD Performance
 Introduction
HORUS330-X1, 1.5 U Fanless Rugged GPU Server is a powerful system driven by Intel® 7th generation Kabylake-H Mobile CPU. Processor i7-7820EQ, the quad-core CPU, supports 3.0GHz, up to 3.7GHz clock speed for high-end computing performance. Not only with outstanding CPU performance, HORUS330-X1 has integrated graphics card NVIDIA® GTX950M/GTX1050Ti to apply all sort of applications. HORUS330-X1 has provided rich I/O such as 4 x USB 3.0, 1 x COM port, 2 x DisplayPort and 2 x LAN ports. HORUS330-X1 is highlighting on rugged design and high functionality, the special dual thermal solution allows powerful system to present supreme performance under harsh environment. With rugged design, the system is suitable for the use in high-end automation and passenger information system in the field of military, transportation and so on.

Dual thermal solution ensures supreme system performance

With combination of high end CPU computing and graphic GPU power generate numerous heat, STACKRACK emphasizes on providing exceeding thermal design guarantee superior system performance under critical environment. HORUS330-X1 innovatively adopts dual sided thermal solution, with copper heat spreader directly touches the heat source components processor and graphic GPU to absorb the heat rapidly, heat then transfer to heat pipe; heat pipe is two-phase heat transfer involves the liquid-vapor phase change of a working fluid which can provide high efficiency heat transmission. The aluminum heat sink dissipates the heat into surrounding air promptly. One side thermal solution is mainly for Core i7-7820EQ 45W processor and the other side is to dissipate the heat for graphic GTX950M/GTX1050Ti GPU. With unique thermal design, HORUS330-X1 can ensure high performance and reliability while working under extended range temperature from -20 up to 60°C.
NVIDIA GTX950M GPU, Stunning Graphics

 




Performance

HORUS330-X1 is installed with graphics card NVIDIA GTX950M GPU (CUDA 640, Clock speed 914MHz), allowing generate excellent resolution and supports high efficiency and fluency of image processing with competitive G3D Mark and low power consumption. The system possess great superiority for image computing utilization, including 2D/3D mapping and real-time image process for autonomous vehicle, surveillance system for control room, other navigation, radar, detection, sensor and laser systems on all maritime, ground, and aerial applications in both defense and industrial fields.

I/O Expansions

HORUS330-X1 is designed to fulfill demands of different application. Apart from standard I/O interface, HORUS330-X1 equipped with two I/O expansions at the back panel in order to have more flexibility and be more use-friendly. Which that offers user to customize additional function such as optional quad LAN port from MT321 Ethernet module, CAN Bus/GPS and 4 display output from GTX950M. With these expansions, HORUS330-X1 can be easily applied to control room or driverless vehicles application.

19"rackmount bracket

The ability of keep HORUS330-X1 inside cabinet is also an enhanced ways to keeping your server secure. Which STACKRACK has designed a 19"rackmount bracket allows HORUS330-X1 place inside a cabinet in order to protect from climate issue, dust and pests attack
Operating Temp.

-20°C~60°C (ambient with air flow)

System

CPU

Intel® Core™ Kabylake-H
Intel® Core™7-7820EQ 3.7 GHz (8M Cache, 45W)

Memory Type

2 x DDR4 SO-DIMM up to 32GB

Expansion Slot

2 x mPCIe slot (1 supported with mSATA)

Storage Device

2 x 2.5"Easy swap HDD/SSD Tray

Front I/O

Power Button

1 with LED backlight

HDD LED

1

2.5" SSD/HDD Tray

2

USB

2 x USB 2.0

Handle

2

Rear I/O

USB

4 x USB 3.0

DisplayPort

2 x DisplayPort (From CPU Board)

Ethernet

2 x RJ45 GbE

Audio

Mic-in, Line-out

Antenna

3 Reserved for 4G/Wi-Fi/GPS

I/O Expansion

2 x I/O Expansion
#Could be customized with 2 x (GbE LAN/ PoE/ DisplayPort/ COM port/ CANbus)

DC-IN

2 x 4P Rugged Terminal connector

OS support list

Windows

Windows 10

Linux

Fedora 20、Ubuntu 13.04、Ubuntu 13.10、Ubuntu 14.04

Mechanical and Environment

Power Requirement

9V to 36V DC-in
Additional 12V DC-in for MXM Graphic Card if necessary

Dimension (WxDxH)

342.0 x 228.4 x 83.6 mm

Weight

>6.20 kg

Operating Temp.

-20°C to 60°C (ambient with air flow)

Storage Temp.

-40°C to 85°C

Relative Humidity

5% to 95%, non-condensing

Test Standard

EMC

CE, FCC compliant

Green Product

RoHS, WEEE compliance
The HORUS330-X1 offers highly effectively heat conductive and heat convective thermal solutions to meet the demands of customers' extended temperature requirements. The heat conductive solutions uses an aluminum flat mass to place in direct contact with the processor and chipset, the heat from chips then transfers it to the case of the system. In addition, the convective thermal solutions introduce airflow directed to move across the surface of a fin style heatsink placed on top of the processor and chipset. This can be done with the aid of an appropriately sized fan placed in top of the fin style heatsink. Alternately, enclosure airflow can be routed to flow across a fin style heatsink.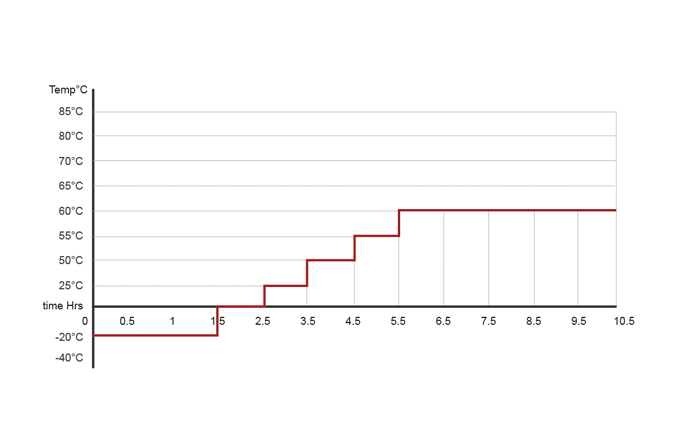 | | |
| --- | --- |
| Device Model | HORUS330-X1 |
| Tester | Robin Chang |
| Test Result | Pass |
| Test Temperature | High 0°C~60°C / Low -20°C~0°C |
| Test Time | 8 Hours / 1.5 Hours |
| Test Standard | Reference IEC60068-2 |
| Test Software | Burnin test v6.0 |
| Criteria | After testing, system can't halt. |
Test Configuration

Device

Configuration

CPU

Intel® Core™ i7- 7820EQ Processor 3.70 GHz

Memory DIMM

Innodisk 8GB DDR4 SODIMM

SATA Port1

Innodisk 3ME4 2.5" SATA SSD 64GB

SATA Port2

Innodisk 3MG2 2.5" SATA SSD 512GB

LAN1

Intel® I219 Gigabit Network

LAN2

Intel® I210 Gigabit Network

Test Software

Burnin test v7.1、AS SSD、
Intel Extreme Tuning Utility、iperf

Chamber

KSON THS-b4t-150
Thermal Measurement

STACKRACK provides real lab testing figures to show how CPU performance is with each tailor made thermal kits as important references and design guide for system engineers. For system integration, the crucial challenge is the operation performance under high temperature, thus STACKRACK conducts long time experiments to make sure the superior testing result for all critical missions. By revealing temperature at processor T junction, processor die and heat sink, STACKRACK is able to analyses the thermal solution we designed achieves maximum efficacy and observe CPU performance. The high temperature testing takes 5.5 hours which at each temperature point we burn in HORUS330-X1 for two hour, from 50 to 60°C.

HORUS330-X1 CPU Performance

| Point | -20°C | 0°C | 25°C | 45°C | 55°C | 60°C |
| --- | --- | --- | --- | --- | --- | --- |
| CPU T-J | 33 | 55 | 83 | 91 | 95 | 99 |
| CPU Die | 13.3 | 34.7 | 61.8 | 69.5 | 77.4 | 82.8 |
| CPU Heatsink | -4.7 | 12.1 | 48.3 | 62.3 | 68.7 | 74.2 |
| CPU Frenquency (GHz) | 3.4 | 3.4 | 2.6 | 2.6 | 1.8z | 0.8 |

HORUS330-X1 GPU Performance

| Point | -20°C | 0°C | 25°C | 55°C | 60°C |
| --- | --- | --- | --- | --- | --- |
| GPU T-J | 15 | 30 | 63 | 82 | 86 |
| GPU Die | 15.6 | 29.8 | 55.1 | 74.9 | 84.1 |
| GPU Frequency (GHz) | 1124 | 1124 | 1137 | 706 | 706 |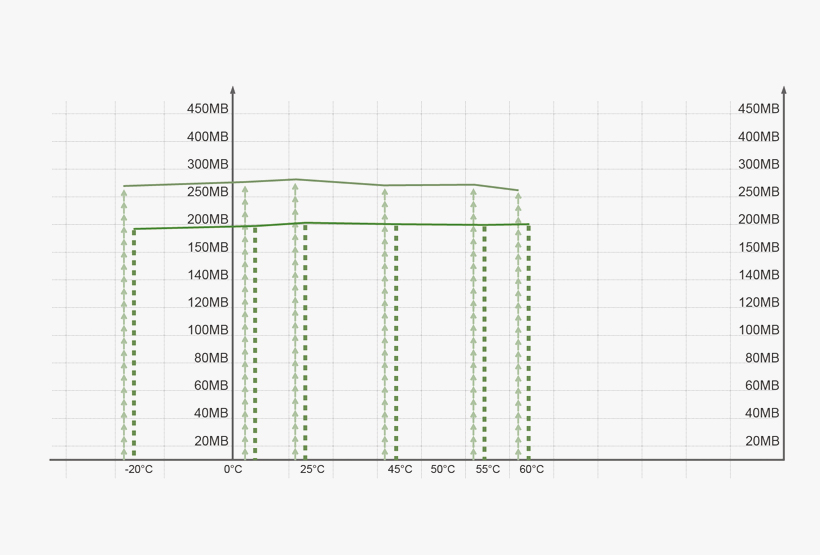 Test Result

Innodisk 2.5" SATA SSD 64GB ( Read) MB/s

Innodisk 2.5" SATA SSD 64GB ( Write) MB/s
Horus330-X1 System - IO Performance
| Point | -20°C | 0°C | 25℃ Room temperature | 45°C | 55°C | 60°C |
| --- | --- | --- | --- | --- | --- | --- |
| Innodisk 2.5" SATA SSD 64GB ( Read MB/s) | 263.5 | 265.1 | 267.6 | 265.1 | 264.9 | 263.1 |
| Innodisk 2.5" SATA SSD 64GB ( Write MB/s) | 192.3 | 195.4 | 199.1 | 198.9 | 197.7 | 199.3 |