SR700-X3 - Rugged Convection Cooled GPGPU Computer with Intel 7th Gen.


MIL-STD  Rugged GPGPUwith Intel® Core™ i7 -7820EQ Processor, Upgradable GPU  (NVIDIA 1050Ti) with high flexibility, IP65 protection, M12 Connectors ,9V to 36V DC-in, Extended Temp. -40°C to +70°C
Intel® 7th Gen Core™ i7-7820EQ
high flexibility With Upgradeble  GPU
Up to 32GB DDR4 SDRAM
M.2 drives up to 1TB
2 x mPCIe, 1 x M.2 expansion slot
Full IP65 Classified
MIL-STD 810G/1275/704/461 compliant
9V to 36V DC-in with power delay on/off
Extended operating temp. -40°C to 70°C
Technical Profile
Specifications
CPU Performance
SSD Performance
Certification
Video
Introduction
SR700-X3 rugged system is a powerful system configured with i7 Intel® 7th Gen Core™ i7-7820EQ and chipset soldering onboard, delivering an amazing level of CPU performance.

Processor i7-6820EQ plus Intel®QM170/QM175 chipset supports clock speed 2.8GHz, up to 3.7GHz. Quad cores, turbo up to 8 cores to cope with enormous data computing. SR700-X3 highlights on high flexibility with upgradeable CPU, GPU without constraining by small spaces and limited power consumption chassis. Besides its extreme rugged design, high functionality, SR700-X3 is designed under MIL-STD-810G and IP65 protection, possessing high adaptation toward dust, humidity, shock, vibration, extreme temperatures and electromagnetic interference characteristics.

SR700-X3 is the perfect solution to military purposes, such as defense, marine navigation and aviation technology. It also can withstand and survive in the harshest surroundings with extended temperature operation from -20 to 60℃.

Thermal solution for fanless system design

The unique design of STACKRACK's stack rack series integrate both horizontal and vertical placement. Dual-sided aluminum heat sink further secures extreme heat dissipation. STACKRACK incorporates exceptional heat radiating material with exceptional CNC cutting design. Fanless method relies heavily on the precise calculation of the efficiency of each heat dissipating component. Superior fanless design guarantees silent operation that enhances the flexibility of mobility and prevents the intrusion of dust and debris. SR700-X3 supports -20°C up to 60°C extended temperature operation, achieving ultimate reliability and stability.
MIL-STD 810G Compliant & Full IP65 Anti-water / dust protection

SR stands for Stack & Rack, which means that our SR series systems are capable of stacking and rack mount cabinet placement. With key components such as CPU, memory, and storage devices all soldered onboard, the possible risk of damages caused by sudden impact of vibration and bumping can be diminished to the minimum. MIL-STD tests are established by the US government to simulate how materials would hold up to harsh environments. SR700-X3 is rigorously field-tested to meet or exceed MIL-STD810G & IP65 criteria for extremely high & low temperature, humidity, shock, and vibration. SR700-X3 has complete resistance to dust and water, making it even more ruggedized and reliable. SR700-X3 can stand against the intrusion of dust, accidental contact, and water. Not just commercial grade waterproof and dustproof, it can reach Dust Tight level, which guarantees complete protection against ingression. Even the strong power of water jet won't post a threat to it, now this is true ruggedness embodied.
Rugged Connectors ( M12 & other MIL-STD variations )

Robust and reliable M12 connectors are implemented for SR700-X3. Compact design meets rugged capability, M12 connectors can seal the connector area securely, operation can continue uninterrupted even under the most severe conditions. What makes SR700-X3 stand out from standard commercial grade product is the fact that all the connectors can be customized to U.S. Military standard connectors (D38999 series) from the famous connector manufacturer Amphenol.

• D38999 Series

MIL-DTL-38999 is a high-performance cylindrical connector family designed to withstand the extreme shock, exposure and vibration that are commonplace in Defense and aerospace applications. Class D38999 connectors are capable of operation within a temperature range -65 to 200℃. They are lightweight and can stand up to environmental challenges. Made with removable crimp or fixed hermetic solder contacts, these connectors provide high-vibration characteristics and are suitable for severe wind and moisture problem areas.


• VG96912 

Derived from MIL-D38999 Series, VG96912 incorporates lightweight, scoop proof and high contact density features. The plug and receptacle bodies are manufactured from aluminum alloy and protected by cadmium or nickel plating. 
System main board: SK513

1. Customized demands for different applications

SR700-X3 is based on SK513, powered by  i7 Intel® 7th Gen Core™ i7-7820EQ and chipset soldering onboard. SK513 can be customized with upgradeable CPU,GPU in order to have more flexibility and be more user-friendly. SK513 is designed to fulfill demands of different applications, such as defense, marine navigation and aviation technology.
 

2. Rugged expansion slot brings high reliability

With stackable PCIe 104 expansion slot, SK513 brings many advantages, including fast data transfer, low cost and high reliability due to PCIe 104's inherent ruggedness, and long-term sustainability. The rugged modules are optimized for mission-critical, harsh environments where failure caused by sudden shock or unpredictable vibration is not an option.

 
System

Model

SR700-X3

CPU i7-7820EQ

Intel® 7th Gen Core™ i7-7820EQ (Frequency 3.0GHz, Turbo Boost Frequency up to 3.7GHz), Quad-Core, 8 Thread Support, 8MB SmartCache. Build-in HD Graphics 630 for excellent 3D, Turbo Boost Technology 2.0, VPro and Hyper-Threading support.

GPU

GeForce GTX 1050 Ti

CUDA Cores 768

Memory Interface GDDR5

Standard Memory Config 4 GB

Memory

Up to 32GB DDR4 SDRAM

Chipset

Intel® QM170/QM175 Chipset providing integrated USB 3.0 and supporting 7th generation Intel® Core™ processor families

Expansion Slot

1 x Full-size mPCIe ( w/ SIM card supported )
1 x Full-size mPCIe ( w/ mSATA supported )
1 x M.2 ( M-Key ), 2280 storage devices support ( SATA )

Display

VGA

Intel® HD Graphics 530/630
Optional : NVidia® GTX1050 MXM graphics
Resolution up to 1920x1200@60Hz or 2048x1152@60Hz with reduced blanking

Storage

mSATA

1 x Full-size mPCIe up to 512 GB

M.2

1 x M.2 ( M-Key ), 2280 storage devices support up to 1 TB Capacity.

Ethernet
2 x Intel Gigabit Ethernet LAN Interfaces ( 10/100/1000Mbps )
 

Front I/O

VGA

1 x Rugged M12 connector

USB

1 x Rugged M12 connector ( 2 x USB 2.0 Ports )

Serial Port

1 x Rugged M12 connector ( 1 x RS-232, 1 x RS-485 )

Ethernet

2 x Rugged M12 connectors

DC-IN

1 x Rugged M12 connector

Applications, Operating System

Applications

Commercial and Military Platforms Requiring Compliance to MIL-STD-810G
Embedded Computing, Process Control, Intelligent Automation and manufacturing applications where Harsh Temperature, Shock, Vibration, Altitude, Dust and EMI Conditions. Used in all aspects of the military

Operating System

Windows 10 32/64Bit
Ubuntu13.04, Ubuntu13.10, Ubuntu14.04, Fedora 20

Physical

Dimension ( W x D x H )

350 x 230 x 86 mm

Weight

8.6 Kg ( 18.9 lbs )

Chassis

Aluminum Alloy, Corrosion Resistant.

Finish

Anodic aluminum oxide ( Color Iron gray )

Cooling

Natural Passive Convection/Conduction. No Moving Parts

Connectors

DC-IN : Phoenix Contact 1424136
Ethernet : Phoenix Contact 1424177
VGA : Phoenix Contact 1441833
USB : Phoenix Contact 1424177
COM : Phoenix Contact 1441833

Ingress Protection

IP65

Mechanical and Environment

Reliability

No Moving Parts; Passive Cooling.
Designed & Manufactured using ISO 9001/2000 Certified Quality Program.

Operating Temp.

-40°C to 60°C

Storage Temp.

-40°C to 85°C

Test Standard

MIL-STD-810G Test
Method 507.5, Procedure II (Temperature & Humidity)
Method 516.6 Shock-Procedure V Non-Operating (Mechanical Shock)
Method 516.6 Shock-Procedure I Operating (Mechanical Shock)
Method 514.6 Vibration Category 24/Non-Operating (Category 20 & 24, Vibration)
Method 514.6 Vibration Category 20/Operating (Category 20 & 24, Vibration)
Method 501.5, Procedure I (Storage/High Temperature)
Method 501.5, Procedure II (Operation/High Temperature)
Method 502.5, Procedure I (Storage/Low Temperature)
Method 502.5, Procedure II (Operation/Low Temperature)
Method 503.5, Procedure I (Temperature shock)

EMC

CE and FCC compliance

Green Product

RoHS, WEEE compliance
 Introduction
The rugged MIL-STD compliant system, SR700-X3 is equipped with highly effectively heat conductive and heat convective thermal solutions to meet extended temperature requirements. The heat conductive solutions uses an aluminum flat mass to place in direct contact with the processor and chipset, the heat from chips then transfers it to the case of the system via 8.0 mm copper heat pipes. In addition, the convective thermal solutions introduce airflow directed to move across the surface of a fin style heatsink placed on top of the processor and chipset. This can be done with the aid of an appropriately sized fan placed in top of the fin style heatsink. Alternately, enclosure airflow can be routed to flow across a fin style heatsink.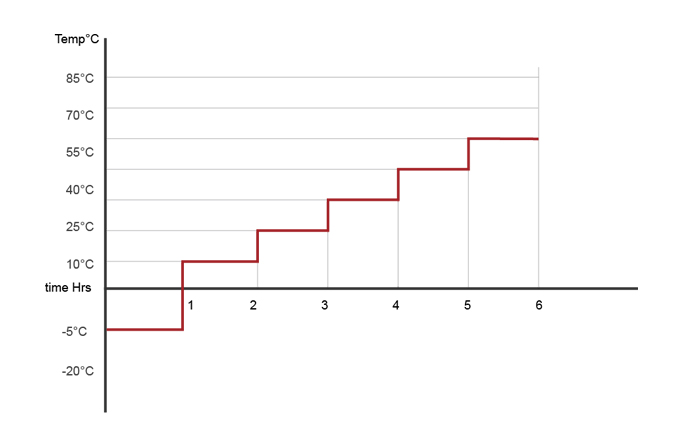 Device Model

SR700-X3

Tester

Robin Chang

Test Result

Pass

Test Temperature

High 0°C~60°C / Low –20°C~0°C

Test Time

5 Hours / 1 Hour

Test Standard

Reference IEC60068-2

Test Software

Burnin test v6.0、
Intel Extreme Tuning Utility1

Criteria

After testing, system can't halt.
Test Configuration

Device

Configuration

CPU

Intel® Core i7-4700EQ 2.40GHz

PCH

Mobile Intel QM87 Express Chipset

Memory

Swissbit XR-DIMM 8 GB DDR3-1600

port3 SATAII

Innodisk 256G SATA SSD

port4 SATA II

Innodisk SATAIII 128GB mSATA

PCI Express Mini Card

Innodisk PCIeDOM 1ME3

LAN1

Intel(R) I210 Gigabit Network Connection

LAN2

Intel(R) I217-LM Ethernet Connection

Test Software

Burnin test v6.0、AS SSD Benchmark
Intel Extreme Tuning Utility 4.3.0.11

Chamber

KSON THS-b4t-150 Chipeng SMO-3
Thermal Measurement

STACKRACK provides real lab testing figures to show how CPU performance is with each tailor made thermal kits as important references and design guide for system engineers. For system integration, the crucial challenge is the operation performance under high temperature, thus STACKRACK conducts long time experiments to make sure the superior testing result for all critical missions. By revealing temperature at processor T junction, processor die and heat sink, STACKRACK is able to analyse the thermal solution we designed achieves maximum efficacy and observe CPU performance. The high temperature testing takes 5 hours which at each temperature point we burn in SR700-X3 for one hour, from 50°C to 85°C.

SR700-X3 System - IO Performance

| | | | | | |
| --- | --- | --- | --- | --- | --- |
| Point | -20°C | 0°C | 25°C | 55°C | 60°C |
| CPU T-J | 33 | 55 | 83 | 95 | 99 |
| CPU Die | 13.3 | 34.7 | 61.8 | 77.4 | 82.8 |
| Heatsink | -8.7 | 10.3 | 48.5 | 68.1 | 74.3 |
| Δ1=(TJ-Die) | 19.7 | 20.3 | 21.2 | 17.6 | 16.2 |
| Δ2=(Die-Sink) | 22 | 24.4 | 13.3 | 9.3 | 8.5 |
| CPU Frenquency (GHz) | 3.4 | 3.4 | 2.6 | 1.8 | 0.8 |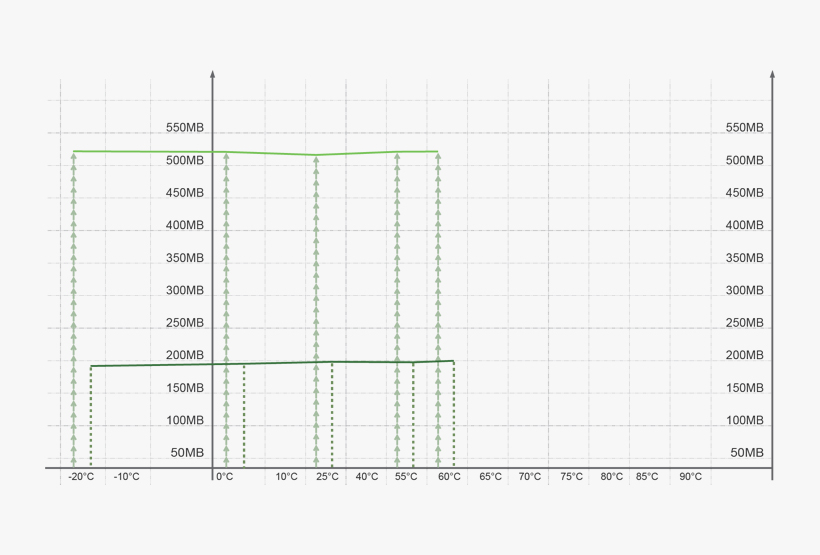 Test Result

Innodisk 64GB SSD ( Read ) MB/s

Innodisk 64GB SSD ( Write ) MB/s
SR700-X3 System - IO Performance
| | | | | | |
| --- | --- | --- | --- | --- | --- |
| Point | -20°C | 0°C | 25°C | 55°C | 60°C |
| Innodisk 64GB SSD ( Read ) MB/s | 518.9 | 516.2 | 513.5 | 519.1 | 519.9 |
| Innodisk 64GB SSD ( Write ) MB/s | 192.3 | 195.4 | 198.9 | 197.7 | 199.3 |