SR10-SCH - Intel® Core i7 Microgrid Computer
MIL-STD Fanless Rugged System with Intel® Core™ i7 Haswell, 4 x USB3.0, 2 x DisplayPort, Extended range of Temperature -40°C to 70°C
MIL-STD 810G Compliance
4th Generation Intel® Core™ i7-4700EQ Haswell Processor
XR-DIMM up to 8 GB RAM
Onboard uSSD SATAIII up to 64 GB
2 x mPCIe expansion slot ( One Co-Layout with mSATA )
2 x PCIe Intel® Gigabit Ethernet
4 x USB 3.0, 1 x COM port
9V to 36V DC-in with power delay on/off
Extended range of temperature -40°C to 70°C
Technical Profile
Specifications
CPU Performance
SSD Performance
Certification
 SR10-SCH is a powerful and high efficiency computing system driven by Intel 4th Gen, 4 Core, 8 Thread processor, that can smoothly operate with high speed processing program. Besides, there are three independent display output ports supporting the system, including two DisplayPort and one DVI-I. What's more, SR10-SCH is equipped with four USB3.0 and one COM port, providing the best input/output efficiency. The system also supports wide DC input voltage range, from 9V to 36V, and the extended temperature ranges from -40°C to 70°C. SR10-SCH passes the MIL-STD 810G compliance and is able to operate successfully in harsh environments.

Thermal solution for fanless system design

STACKRACK exclusively adopts special heat radiating materials combining special CNC cutting, forging a lavish sophisticated metal. Further, STACKRACK designs an unique enclosure that is able to stack together both horizontally and vertically. The aluminum heat sink enclosure allows perfect heat dissipation. Apart from the unique heat sink enclosure, SR10-SCH innovatively adopts copper heat spreaders. The shape and the size of the spreader are tailor-made based on the heat sources placement of CPU module and graphic module. The exclusive thermal designs combined are able to replace traditional fan, as well as ensure high reliability and stability while working under wide range temperature from -40 to 70°C.
MIL-STD-810G standard designed for shock and vibration

SR10-SCH is designed to meet MIL-STD-810G standard for shock and vibration. MIL-STD-810G standard is considered the upmost principle, which guarantees the system to achieve superior quality and stability when operating under extreme harsh environment. We have conducted a series of testing, including resistance to shock, vibration, dust, humidity, and extreme temperatures.

 
Features

1. Intel® Core™ i7 Haswell , BGA type Core i7-4700EQ

Intel® Core™ i7 Haswell , BGA type Core i7-4700EQ can operate up to 3.4GHz(max). The processor is equipped with 6MB Smart Cache to decrease the overall cache miss rate. The Intel® Core™ i7 Haswell , BGA type Core i7-4700EQ processor effectively operates with 4 Cores and 8 Threads, supporting the best performance at high speeds.
 

2. Flexible display output & triple display

The various display output ports of SR10-SCH supports 2 x DisplayPort, 1 x DVI-I, and 1 x COM with 5V/12V selectable. The high flexible display output accepts diverse applications and provides the best display performance. The integrated HD Graphics supports multiple displays. It features DVI-I and DisplayPort outputs to provide solutions for imaging, machine vision, infotainment, medical and gaming machines.
 

3. USB 3.0

SR10-SCH is equipped with USB 3.0, which dramatically enhances the transfer rate up to 5 Gbps, saving the data transfer processing time efficiently. For example, USB 3.0 only needs to spend 6mins for transferring a 50GB document, but USB 2.0 needs to spend at least 30 minutes.
System main board: EBX SBC-OXY5737A

1. Intel® Core i7 CPU soldering onboard

OXY5737A is based on EBX rugged single board computer, powered by Intel Ivy Bridge i7-4700EQ quad core processor plus QM87 chipset soldered onboard. With processor soldering on board can enhance the resistance of shock and vibration to allow product operates under every possible condition. With processor solder on board would lower resistance and inductance at the connection enhance effective transmission that could guarantee better and more high frequency performance for the system.
 

2. Expandable by Extension Storage Module, the SK401

SR10-SCH carries stacking PCIe 104 and FPE expansion slot, which allows the system with optional module connects ability to increase a variety of possibility for device, connects. SR10-SCH can use with stackable storage module SK401. With SK401 storage module stacking on board can additionally support 2x 2.5"SSD or HDD and 2x mSATA. The SK401 supports OS of Win 7, Win XP, Linux, DOS, etc.
 

3. Wide range DC input from 9V~ 36V

For certain application such like transportation and military always challenge the risk of unstable power that might cause damage to the system. Wide range DC input becomes an indispensable element for those applications. SR10-SCH supports Wide range 9V~ 36V DC-in to protect system from damage caused by sudden surge or peak voltage. This feature guarantees the system increasing migration path flexible and eliminates redesign of existing power architecture.
Operating Temp.

-40°C ~ 70°C ( ambient with air flow )

System

Model
SR10-SCH
CPU
Intel® Core™ i7 Haswell , BGA type Core i7-4700EQ ( 4C x 2.4/1.7 GHz ),
6M Cache ( 47W )
Chipset
Intel® QM87 PCH
Ethernet Chipset
Intel® I210IT & i217-LM GbE
Memory
1 x DDR3 1600 XR-DIMM up to 8 GB with ECC
Expansion Slot
2 x mPCIe ( 1 x colay with mSATA )
Storage Device
Onboard uSSD SATAIII up to 64 GB

Front I/O

Power Button
Power Button with dual color LED backlight
Power LED
1 x Green LED
HDD LED
1 x Red LED
LAN LED
2 x Red LED, 2 Green LED
USB
2 x USB 3.0

Rear I/O

Power
1 x Terminal Block
Ethernet
2 x RJ45
COM
1 x RS232/422/485 with 5V/12V selectable
USB
2 x USB 3.0
DVI-I
1 (Default CLOSED)
DisplayPort
2
Audio
1 x MIC, 1 x Line out

Mechanical & Environment

Power Requirements
9V to 36V DC-in, AT/ATX mode supports with power delay on/off
Weight
3.05kg(6.72lbs)
Dimension( W x H x D )
308 x 149 x 59 mm
Operating Temp.
-40°C to 70°C ( ambient with air flow )
Storage Temp.
-40°C to 85°C
Relative Humidity
5% to 95%, non-condensing

Serial Interface & Signals

Serial Standards
1x RS-232/422/485 port, Jumper-selectable ( DB9 male )
RS-232
TxD, RxD, DTR, DSR, RTS, CTS, DCD,GND
RS-422
TxD+, TxD-, RxD+, RxD-, GND
RS-485-4w
TxD+, TxD-, RxD+, RxD-, GND
RS-485-2w
Data+, Data-, GND

Test Standard

MIL-STD-810G Test
Method 507.5, Procedure II ( Temperature & Humidity )
Method 514.6, Procedure I ( Category 20 & 24, Vibration )
Method 516.6, Procedure I ( Mechanical Shock )
Method 501.5, Procedure I ( Storage/High Temperature )
Method 501.5, Procedure II ( Operation/High Temperature )
Method 502.5, Procedure I ( Storage/Low Temperature )
Method 502.5, Procedure II ( Operation/Low Temperature )
Method 503.5, Procedure I ( Temperature shock )
EMC
CE and FCC compliance
Green Product
RoHS, WEEE compliance
 The rugged MIL-STD compliant system, SR10-SCH is equipped with highly effectively heat conductive and heat convective thermal solutions to meet extended temperature requirements. The heat conductive solutions uses an aluminum flat mass to place in direct contact with the processor and chipset, the heat from chips then transfers it to the case of the system via 8.0 mm copper heat pipes. In addition, the convective thermal solutions introduce airflow directed to move across the surface of a fin style heatsink placed on top of the processor and chipset. This can be done with the aid of an appropriately sized fan placed in top of the fin style heatsink. Alternately, enclosure airflow can be routed to flow across a fin style heatsink.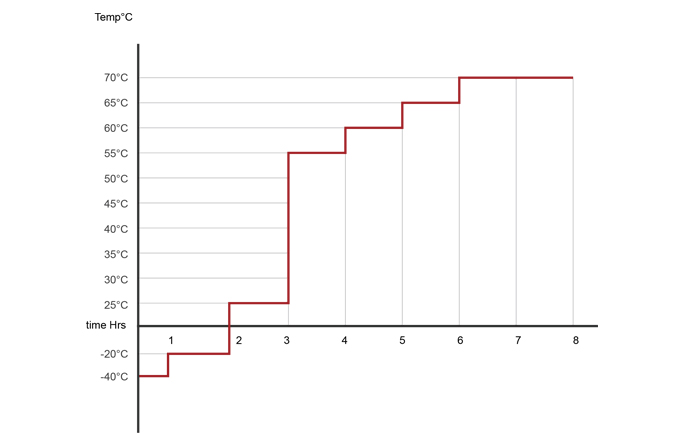 | | |
| --- | --- |
| Device Model | SR10-SCH |
| Tester | Robin Chang |
| Test Result | Pass |
| Test Temperature | High 0°C~70°C / Low –40°C~0°C |
| Test Time | 7 Hours / 1 Hour |
| Test Standard | Reference IEC60068-2 |
| Test Software | Burnin test v8.1 |
| Criteria | After testing, system can't halt. |
Test Configuration

Device

Configuration

Motherboard

OXY5737A

CPU

Intel® Core™ i7-4700EQ 2.4 GHz (6MB, 47W)

PCH

Intel® QM87 Chipset

Memory DIMM1

Swissbit XR DIMM 8GB DDR3 1600

SATA port

Apacer onboard SSD 64GB

LAN1

Intel®I210IT GbE LAN

LAN2

Intel® I217LM GbE LAN

Test software

Burnin test 8.1, CPU-Z,
HW monitor 1.38, AS SSD bench

Chamber

KSON THS-b4t-150, Chipeng SMO-3
Thermal Measurement

STACKRACK provides real lab testing figures to show how CPU performance is with each tailor made thermal kits as important references and design guide for system engineers. For system integration, the crucial challenge is the operation performance under high temperature, thus STACKRACK conducts long time experiments to make sure the superior testing result for all critical missions. By revealing temperature at processor T junction, processor die and heat sink, STACKRACK is able to analyse the thermal solution we designed achieves maximum efficacy and observe CPU performance. The high temperature testing takes 7 hours which at each temperature point we burn in SR10-SCH for one hour, from -40°C to 70°C.

SR10-SCH System - IO Performance

| | | | | | | | |
| --- | --- | --- | --- | --- | --- | --- | --- |
| Point | -40°C | -20°C | 25°C | 55°C | 60°C | 65°C | 70°C |
| CPU T-J | 0 | 7 | 81 | 99 | 99 | 98 | 99 |
| CPU Die | -10 | -3 | 71 | 89 | 89 | 88 | 89 |
| Heatsink | -20 | -13 | 61 | 79 | 79 | 78 | 79 |
| Δ1=(TJ-Die) | 10 | 10 | 10 | 10 | 10 | 10 | 10 |
| Δ2=(Die-Sink) | 10 | 10 | 10 | 10 | 10 | 10 | 10 |
| CPU Frenquency (GHz) | 2.79 | 2.79 | 2.79 | 2.59 | 2.19 | 2.39 | 1.9 |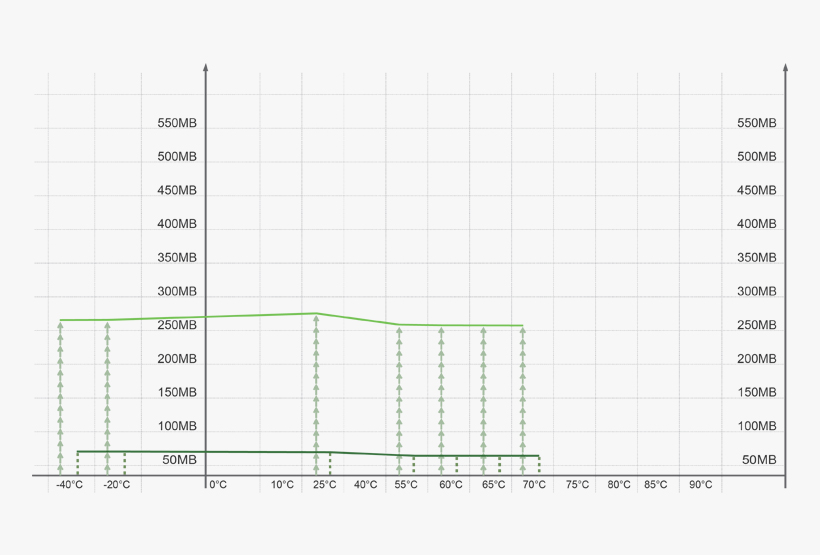 Test Result

 Innodisk 64GB SSD ( Read ) MB/s

Innodisk 64GB SSD ( Write ) MB/s
SR10-SCH System - IO Performance
| | | | | | | | |
| --- | --- | --- | --- | --- | --- | --- | --- |
| Point | -40°C | -20°C | 25℃ | 55°C | 60°C | 65°C | 70°C |
| Innodisk 64GB SSD ( Read ) MB/s | 262 | 260 | 274 | 257 | 257 | 258 | 259 |
| Innodisk 64GB SSD ( Write ) MB/s | 70 | 70 | 72 | 69 | 69 | 69 | 67 |