CPT330B Intel® 9th Core™ i7-9700TE Fanless Vehicle Computer

Intel® Core™i7-9700TE Processor, 4x  802.3 at Gigabit PoE via M12, 4-CH isolated DI and 4-CH isolated DO , 1 x PCIex16 Slot, 2 x 2.5'' SSD, Multi Display , 9V to 48V DC-in, Nvidia GTX1660 Graphics Card supported
Intel® Core™ i7-9700TE Processor (8 cores ,3.8Ghz)

4-CH isolated DI and 4-CH isolated DO

4x  802.3 at Gigabit PoE via M12

Nvidia GTX1660 Graphics Card supported

Up to 64GB DDR4-2666 SDRAM

1 xPCIex16, 2 x 2.5'' SSD

Multi Display : HDMI/DVI-I/DP

6 x LAN (4 x PoE RJ45 or M12), 6 x COM, 8 x USB

Wide Range 9V~48V DC-in
Technical Profile
Specifications
CPU Performance
Introduction
CPT330B is a Rugged IoT Edge Computer. Based on Intel® Coffeelake 14nm Core™ Q370 Chipset, CPT330B can be processed by Intel® Coffeelake-Refresh i7-9700TE (8 cores, up to 3.8GHz) processor. Adopting with Nvidia GTX1660 graphics card, CPT330B completes the whole system and meet requirements of IoT era by building powerful GPUCPU structure. Designed for the industrial automation market and to withstand 24/7 operation in harsh environments, all electronic components of CPT330B are rugged and satisfy certification standards for environmental protection. Moreover, CPT330B provides 1 x PCIex16 expansion slot, which is extremely important for different applications, such as surveillance monitoring and fleet management.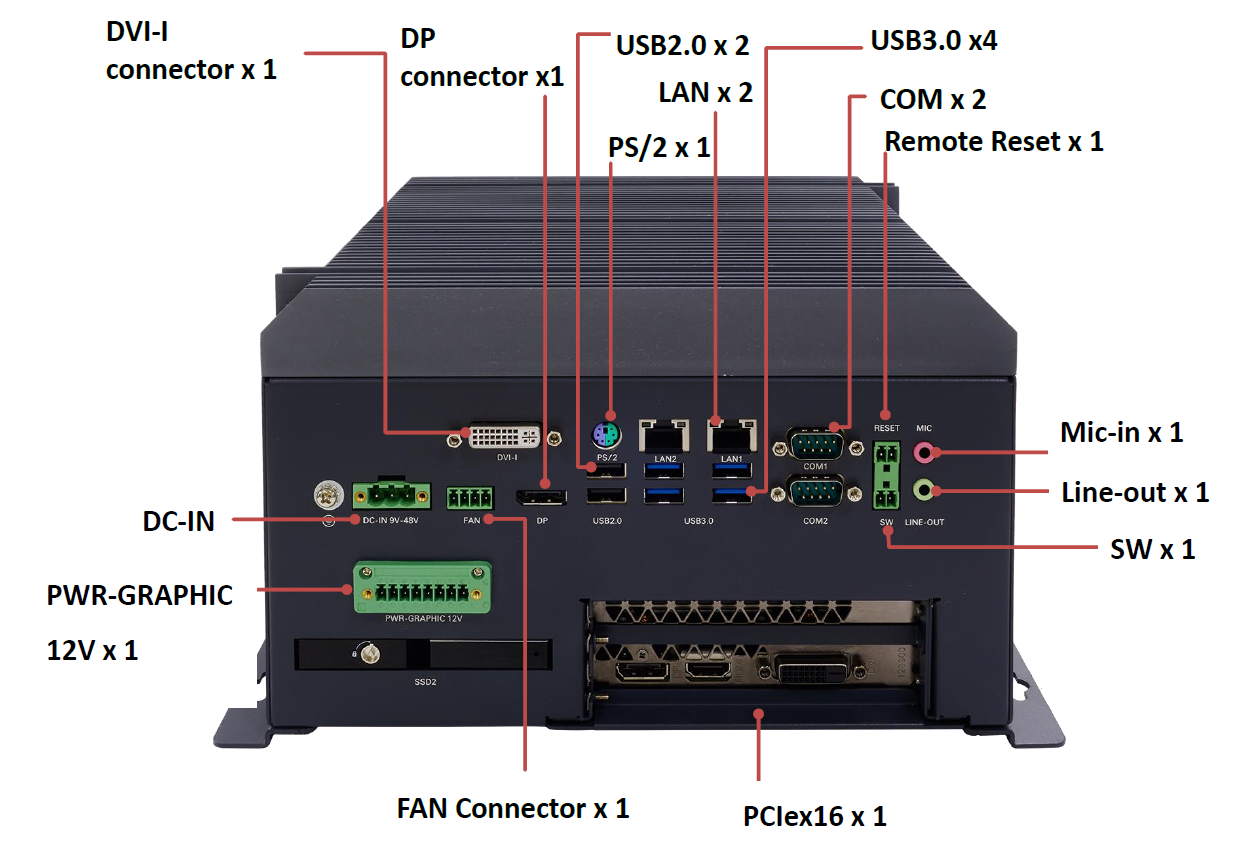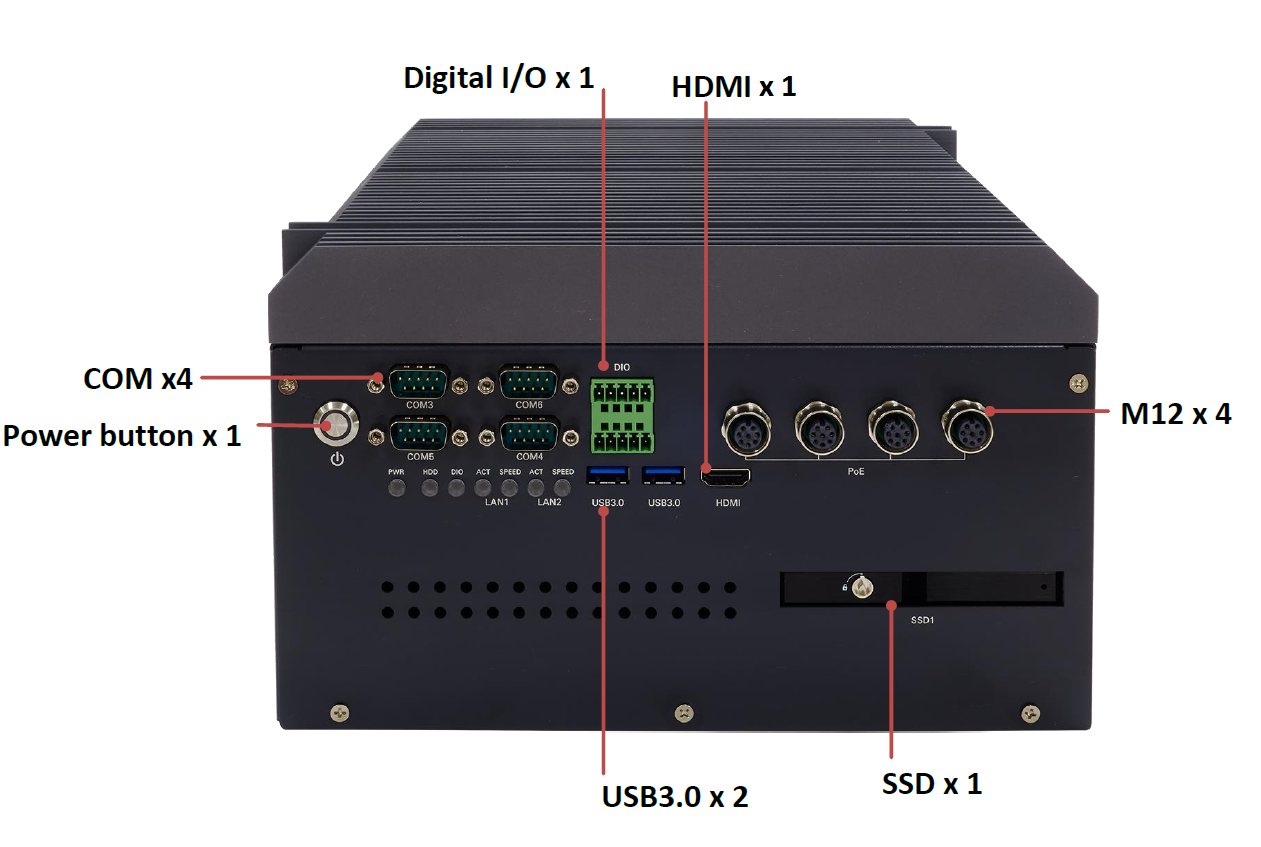 Expansion Module

4 x PoE (RJ45 or M12)

4 x RS232/422/485 with isolated DIDO (4 x DI, 4 x DO)

4 x RJ45 LAN ports

 



Outstanding Processing Units GTX1660 & i7-9700TE

CPT330B adopts Intel's i7-9700TE CPU (8 Cores, 1.8GHz Turbo up to 3.8GHz), delivering the efficient performance to consolidate multiple workloads. It is also equipped with Nvidia GTX1660 Graphics Card (1408 CUDA Cores), providing capability to achieve remarkable image processing and visual displays. At the age of 5G mobile networks, the requirements of hardware are getting stricter. Not just computing power but image processing become the mainstream. With GPUCPU (Nvidia GTX1660 & Intel i7-9700T) structure, CPT330B can be applied in Fleet Management, Control Center and Machine Vision.
Sensor Fusion Capability in Fleet Management

CPT330B provides 1 x PCIex16 expansion slot, getting the opportunity to make the fleet management become a reality. In Truck Platooning System, hardware sensors and an interface are installed or plugged into every vehicle. Including Millimeter Wave Radar, Laser Radar, Lane Detection Sensor, GPS, IMU and HMI. Most of analyses need strong image processing power supporting, ensuring the information can be generated efficiently and accurately. With GTX1660 Graphic Card, CPT330B is able to realize Truck Platooning by using connectivity technology and automated driving support systems.
Artificial Intelligence in Traffic Security

To achieve Artificial Intelligence Security in Traffic field, high performance GPUCPU structure is an essential element. CPT330B plays a critical role in Sensor Fusion framework, which is fundamental of Traffic surveillance and management system. Traffic violations, such as speed exceeding, red light runners, tailgating, changing lanes at random, resulting in dangerous traffic environment normally causes casualties. 3D LIDAR Enforcement, a gradually recognized and matured surveillance device, using LIDAR cameras technique to reach accurate and efficient traffic monitoring and detection. Moreover, the Sensor Fusion Capability makes CPT330B can be widely used for different situations, UGV or Smart City.

 

By installing CPT330B on Police Patrol vehicles, police is able to ban lots of drive violations:

Tailgating violation detection, detects with high precision tailgating drivers, with the use of LiDAR sensors.

Distracted Driver Detection, detects drivers who are distracted on a cell phone and/or texting.

Seat Belt Violation Detection, detects drivers who are not wearing seat belts.
Surveillance Enhancement

Besides, 1 x PCIex16 can be divided into 2 x PCIex8 for other purposes. Riser card enables the flexible application of CPT330B. CPT330B could be installed in Control Center or different display scenarios. It has multi display ports HDMI/DVI-I/DP, which is an ideal choice for surveillance monitoring. Moreover, integrating Intel® Movidius™ VPU Card will enhance surveillance ability dramatically. CPT330B with VPU Card For AI Deep Learning Inference Workloads : Street Surveillance, Crowd Management and Intruder Identification.

Accurate real-time crowd density in count and graphic display, counting people entering, exiting or net count inside of a zone, gate, entrance, or street section, CPT330B provides an invaluable service to management of crowds : Collecting various data in first step, next, visualizing analytics with counts and chart, it can support operator for accurate decision making. Also, camera-based FR and LiDAR-based person tracking allows for wanted person to be identified, alerted on and tracked wherever they go within the covered area. CPT330B is ideal for Airports, Government and military sites, establishing a guarding network for people's safety.
Equipped with Rugged M12 PoE Connectors

To support optimal connectivity between the connector and the cable each combination has been matched, M12 PoE Connectors are available for CPT330B. Even in extremely rough railway environments, M12 rugged connectors help providing a safe signal transfer. It's characterized by a reliable 360 degree shielded solution, crimp flange and compact outer dimension, offering a torsion and vibration proof cable strain relief. This reduces cable breakage and makes the system tamper proof.

 
Raise Efficiency in Industrial 4.0

Nowadays, PoE LAN is widely used in industry. Take Textile Industry for instance, the factory has to manufacture tons of cotton material a day. The production line produces massive goods, bringing out two problems - How to check if there were defective items and how to pick them out? Simply saying, install a camera with PoE LAN to examine the production line. (I)The camera transmits images to computer through PoE LAN. (II) Computer starts to analyze after received the data. Next, it'll send the command to automatic robot arm (USB/COM/LAN interfaces), determining to eliminate it or not. (III) The process requires high performance units to make a decision within millisecond : GPU & CPU. Undoubtedly, CPT330B is the best choice to be applied in industrial field!
Operating Temp.

Operating Temperature

0 to +50°C, optional: -20 to +60°C

Storage Temperature

-40 to +85°C

System

CPU

Intel® Core™ i7-9700 (12M Cache up to 4.7GHz) 65W

Intel® Core™ i7-9700TE (12M Cache up to 3.8GHz) 35W

Intel® Core™ i7-8700 (12M Cache up to 4.6GHz) 65W

Intel® Core™ i7-8700T (12M Cache up to 4.0GHz) 35W

Intel® Core™ i5-8500 (9M Cache up to 4.1GHz) 65W

Intel® Core™ i5-8500T (9M Cache up to 3.5GHz) 35W

Intel® Core™ i3-8100 (6M Cache up to 3.6GHz) 65W

Intel® Core™ i3-8100T (6M Cache up to 3.1GHz) 35W

Memory Type

2 x SO-DIMM up to 64GB DDR4-2666MHz

Front I/O

USB

4 x USB3.0, 2 x USB2.0

COM

2 x DB9 connector (RS232/422/485)

Ethernet

2 x RJ45 Gigabit Ethernet Interfaces (10/100/1000Mbps)

DisplayPort

1 x 20Pin DisplayPort connector (Female), resolution up to 4096x2160@60Hz

Rear I/O

COM

4 x DB9 connector (RS232/422/485)

DIO

8-bit Isolated Digital I/O (4 x DI, 4 x DO)

Ethernet

4 x PoE RJ45 or M12 (Optional)

Storage Device

2 x 2.5'' SSD

Power Input

DC-In 9~48V

OS support list

Windows

Windows 10 64Bit

Linux

Ubuntu14.04, Fedora 20/23, RedHat Linux EL 7.1/7.2

Mechanical and Environment

Power Requirement

DC-In 9~48V

Operating Temp.

0 to 50°C, optional: -20 to +60°C

Storage Temp.

-40 to +85°C

Dimension (W x D x H)
250x130x264.2mm (WxHxD)
Weight
6.75kg (14.88 lbs)
Expansion Module

4 x PoE (RJ45 or M12)

4 x RS232/422/485 with isolated DIDO (4 x DI, 4 x DO)

4 x RJ45 LAN ports



 
Intel® Core™ i7-9700TE Processor (up to 3.8 GHz, 8 cores)
| Thermal Point \ Testing Temp. | 0°C | +25°C | +50°C | +55°C | +60°C |
| --- | --- | --- | --- | --- | --- |
| CPU T-J | 16 | 58 | 68 | 75 | 91 |
| CPU Die | 11.8 | 38.6 | 71.9 | 76 | 81.5 |
| CPU Heatsink | 8.2 | 34.7 | 67.8 | 72 | 77.3 |
| Δ1=(TJ-Die) | 4.7 | 5.0 | 5.0 | 7.0 | 7.0 |
| Δ2=(Die-HeatSink) | 4.7 | 5.0 | 5.0 | 6.0 | 5.0 |
| CPU Frequency (GHz) | 2.66 | 2.68 | 2.57 | 2.45 | 2.41 |
| GPU T-J | 19 | 57 | 71 | 82 | 88 |
| GPU Die | 31.5 | 62.6 | 85.5 | 87 | 89.3 |
| GPU Frequency (GHz) | 1.5 | 0.84 | 0.675 | 1.125 | 0.96 |
Intel®i7-8700 Processor( up to 3.2GHz,6 cores)
Description

System Top Sink

CPU Die

CPU T-j

CPU Freq

100%CPU Loading
with Graphic

50°C with hot air flow

71.4

68.8

100

3.1 GHz

100%CPU Loading
without Graphic

50°C with hot air flow

70.4

73.2

100

3.2 GHz
Description

System Top Sink

CPU Die

CPU T-j

CPU Freq

100%CPU Loading
with Graphic

60°C with hot air flow

76.8

81.5

100

2.99 GHz

100%CPU Loading
without Graphic

60°C with hot air flow

75

79.6

100

3.15 GHz
Description

System Top Sink

CPU Die

CPU T-j

CPU Freq

100%CPU Loading
with Graphic

50°C without air flow

78

81.1

100

3.05 GHz

100%CPU Loading
without Graphic

50°C without air flow

77

81.1

100

3.06 GHz