SR10-X3 Rugged Autonumous Computer
Intel Q370 MIL-STD Fanless Rugged System with Intel 8th Core i7-8700 Coffee Lake processor, Extended range of Temperature -40°C ~ 60°C
MIL-STD 810G Compliance
8th Gen Intel Core i7-8700 Processor
Up to 16GB DDR4 RAM
Multi display with displayport, HDMI & DVI
1 x 2.5" SSD
2 x Intel gigabit Ethernet
6 x USB ports, 3 x COM port
12V to 24V DC-in
Extended temperature -40°C to 60°C
Technical Profile
Specifications
CPU Performance
SSD Performance
Introduction
SR10-X3 is a high efficiency and powerful computing system driven by the Intel 8th Gen, 6 Core, 12 Thread processor, that can successfully operate with a high speed efficiency processing program. Besides, there are three independent display output ports supporting the system, including one Display Port, one HDMI, and one DVI-D. What's more, SR10-X3 is equipped with two USB2.0 and four USB3.1, provide the best input and output efficiency. The system also supports a wide range DC-in from 12V to 24V, and accepts the extend range of temperature from -20°C to 60°C. SR10-X3 passes the MIL-STD 810G compliance which can operate successfully in any harsh environments.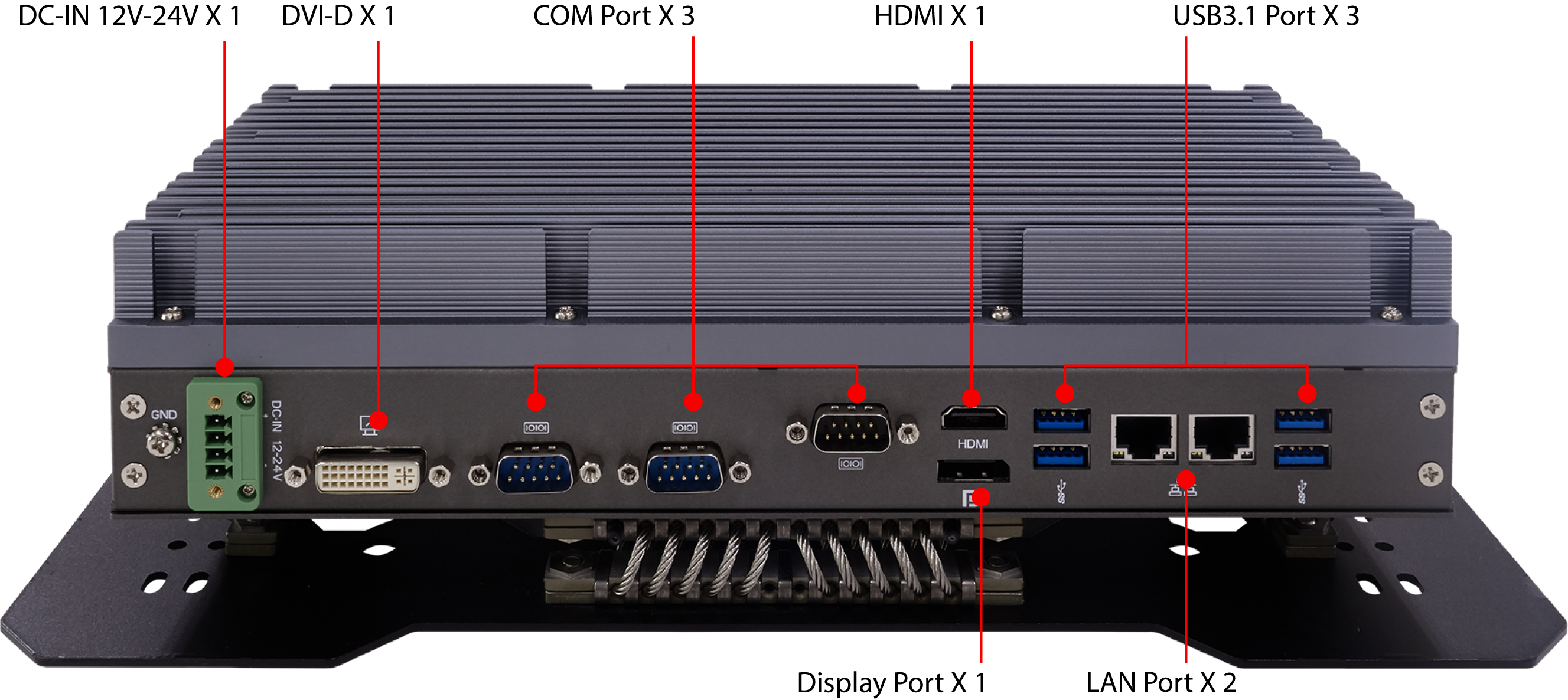 Thermal solution for fanless system design

7starlake designs a unique enclosure that is able to stack together both horizontally and vertically. The aluminum heat sink enclosure allows perfect heat dissipation. 7starlake exclusively adopts special heat radiating material and combining with special CNC cutting, further forged into a lavish sophisticated metal. Apart from the special heat sink enclosure, SR10-X3 innovatively adopts two kinds of copper heat spreader. The shape and the size of the spreader are tailor-made based on the heat sources placement of CPU module and graphic module. In view of the gap difference between motherboard and heat sink, 7starlake builds two heat spreaders in different thicknesses. Combining all these exclusive thermal designs can alternatively replace traditional fan, and also ensures high reliability and stability while working under wide range temperature from -20°C up to 60°C.

 
MIL-STD-810G standard designed for shock and vibration

SR10-X3 is designed to meet MIL-STD-810G standard for shock and vibration. MIL-STD-810G standard is considered the upmost principle, which guarantees the system achieves superior quality and stability when operate under extreme harsh environment. We have conducted the test with series of testing procedures for resistance to shock, vibration, dust, humidity, and extreme temperatures.

 
1. Intel 8th Gen processor, 6 Core, 12 Thread supports
Intel 8th Core i7-8700 Coffee Lake processor with Intel Turbo Boost Technology that the operating Frequency can increase up to 4.0 GHz. The processor equipped with 12MB SmartCache to decrease the overall cache miss rate. The Intel 8th Core i7-8700 processor effectively operates with 6 Core and 12 Thread, which supports the best high speed operations and processes.
2. Flexible display output & triple display
The various display output ports of SR10-X3 supports 1 x DisplayPort, 1 x HDMI, and 1 x DVI-D with Full HD 1080P resolution display. The system can not only provide the single desktop display but also allow triple screens display. The high flexible display output can accept diverse applications and provide the best display performance.
The integrated UHD Graphics supports three independent displays with 4k resolution each, and comes with hardware-based video encoding and decoding up to 4k. It features DVI, HDMI and DisplayPort outputs to provide advanced solutions for imaging, machine vision, infotainment, medical and gaming machines.
3. USB 3.1 Gen 2
SR10-X3 is equipped with USB 3.1 Gen 2, which dramatically enhance the transfer rate up to 10 Gbps, which means it efficiently saves the data transfer processing time. For example, USB 3.1 Gen 2 only needs to spend 4.13s for transferring a 5GB document, but USB 3.0 needs to spend 10s for transferring a 5GB document. Besides, USB 3.1 Gen 2 improves the Encoded Mode to 128b/132b, successfully decrease the dissipation rate of data transfer to 3%.
| USB Type | Speed | Max. current | Data Rate | Encoded Mode | Encoded Loss | Actual Rate |
| --- | --- | --- | --- | --- | --- | --- |
| USB 2.0 | HiSpeed | 500mA | 480 Mbps | 8b/10b | -20% | 48 MB/s |
| USB 3.0/ 3.1 Gen 1 | SuperSpeed | 900mA | 5.0 Gbps | 8b/10b | -20% | 500 MB/s |
| USB 3.1 Gen 2 | SuperSpeed+ | 5000mA | 10 Gbps | 128b/132b | -3.03% | 1.21 GB/s |
Operating Temp.

-40°C ~ +60°C ( ambient with air flow )

System

Model
SR10-X3
CPU
Intel® 8th Gen Core™ i7-8700 (Frequency 3.2GHz, Turbo Boost Frequency up to 4.6GHz),
6-Core, 12 Thread Support, 12MB SmartCache. Build-in UHD Graphics 630 for excellent 3D,
Turbo Boost Technology 2.0, VPro and Hyper-Threading support
Chipset
Q370
Memory
Up to 16GB DDR4 RAM

Display

GPU
Intel® UHD Graphics 630
Display Port
Resolution up to 4096x2304@60Hz
HDMI
Resolution up to 4096×2160@30Hz
DVI-D
Resolution up to 1920x1200 @ 60Hz

Storage

Storage Device
1 x 2.5" Solid State Disk (SSD)
1 x mSATA Rugged Industrial NAND Flash mSATA Storage w/ Rugged -40/+85C
High Capacity, optional Pre-loaded with Linux or Windows OS.
64 / 128 / 256 / 512GB /1TB / 2TB Innodisk 3MG2-P Series MLC SATA III 6Gb/s Flash
SSD, Rated for 520 MB/sec Sequential Read ; 350 MB/sec Write Max.

Ethernet

2 x Intel Gigabit Ethernet LAN Interfaces (10/100/1000 Mbps)

Rear I/O

DisplayPort
1 x 20Pin DisplayPort connector (Female)
HDMI
1 x 19Pin HDMI connector (Female)
DVI-D
1 x 20Pin DVI-D connector (Female)
Ethernet
2 x RJ45 Gigabit Ethernet LAN Interfaces
USB Port
4 x USB3.1 Gen2 standard-A connectors
Serial Port
1 x DB9 connector (RS-232)
Audio Port
1 x Line-Out, 1 x MIC-In connector
DC-IN
4P Rugged Terminal connector

Front I/O

Button
1 x Power Button w/Indicator LED
Indicator LED
1 x HDD LED
USB Port
2 x USB2.0 standard-A connectors
Serial Port
2 x DB9 connectors (1 x RS-232, 1 x RS232/422/485)

Applications, Operating System

Applications
Commercial and Military Platforms Requiring Compliance to MIL-STD-810G
Embedded Computing, Process Control, Intelligent Automation and manufacturing
applications where Harsh Temperature, Shock, Vibration, Altitude, Dust and
EMI Conditions.
Used in all aspects of the military.
Operating System
Windows 10 64bit
Ubuntu16.04, Ubuntu14.04, Fedora 28

Physical

Dimension (W x D x H)
308 x 149 x 65.2 mm
Weight
3.21 Kg
Chassis
Aluminum Alloy, Corrosion Resistant.
Finish
Anodic aluminum oxide (Color Iron gray)
Cooling
Natural Passive Convection/Conduction. No Moving Parts
Connectors
DC-IN : PHOENIX CONTACT 1776715 RJ45 Ethernet :
RTB-19GB9J1A
COM: FEN YING SM10-09P
DVI : FOXCONN QH11121-DA4E-4F
HDMI + DP : JKCR Display and HDMI Female
Ingress Protection
Dust Proof (Similar to IP50)

Environmental

MIL-STD-810G Test
Method 507.5, Procedure II (Temperature ® Humidity)
Method 516.6 Shock-Procedure V Non-Operating (Mechanical Shock)
Method 516.6 Shock-Procedure I Operating (Mechanical Shock)
Method 514.6 Vibration Category 24/Non-Operating (Category 20 ® 24, Vibration)
Method 514.6 Vibration Category 20/Operating (Category 20 ® 24, Vibration)
Method 501.5, Procedure I (Storage/High Temperature)
Method 501.5, Procedure II (Operation/High Temperature)
Method 502.5, Procedure I (Storage/Low Temperature)
Method 502.5, Procedure II (Operation/Low Temperature)
Method 503.5, Procedure I (Temperature shock)
Operating Temperature
-20°C to 60°C (ambient with 0.7m/s airflow)
Storage Temperature
-40°C to 85°C
EMC
CE and FCC compliance
Intel®i7-8700 Processor( up to 3.2 GHz,6 cores,50W)