STACKRACK launches an unbeatable fanless CPUGPU Server series : HORUS330-X1 & X2
STACKRACK launches an unbeatable fanless CPUGPU Server series : HORUS330-X1 & X2
Taipei, Taiwan
April 24, 2018
STACKRACK launches an unbeatable fanless CPUGPU Server series : HORUS330-X1 & X2
STACKRACK, an innovative industrial fanless rugged and embedded system solution provider has launched remarkably advanced CPU GPU server solutions : HORUS330-X1 & X2. Which equipped with Intel® 7th generation Core® i7-7820EQ and Intel® Xeon® D-1548 processor, system integrate with NVIDIA graphic card GTX950M (CUDA Core:640) and GTX1050Ti ( CUDA Core:768) to apply all sort of applications. HORUS330-X1 has provided rich I/O such as 4 x USB 3.0, 2 x USB 2.0, 2 x DisplayPort, 2 x RJ45 ports and 2 x I/O Expansion which could be customized with 2 x GbE LAN/ PoE/ DisplayPort/ COM port/ CANbus. HORUS330-X2 has 4 x USB 3.0, 2 x DisplayPort (From NVIDIA GeForce GTX 950M/1050TI), 4 x RJ45 Gigabit Ethernet LAN, 2 x CANbus DB9 connector and 1 x VGA port. HORUS330-X1 & X2 are highlighting on rugged design and high functionality, the special dual thermal solution allows powerful system to present supreme performance under harsh environment. The fanless rugged system also features wide range DC inputs 9V~36V (Additional 12V DC-in for MXM Graphic Card if necessary) and extended temperature support of-20 to 60°C. The HORUS330-X1 & X2 can greatly enhance performance and provide new features for digital signage, industrial automation, self-service and more.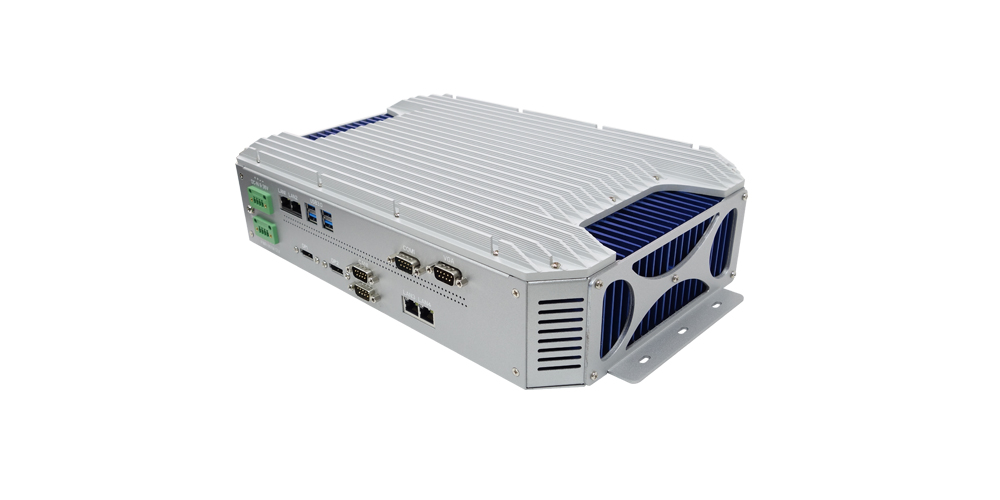 Dual thermal solution ensures supreme system performance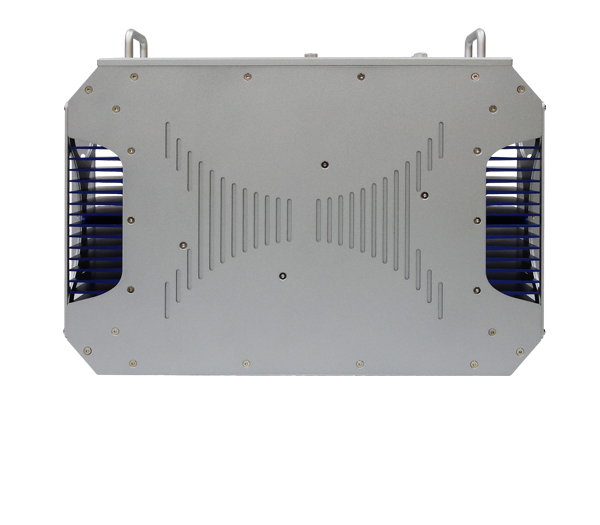 With combination of high end CPU computing and graphic GPU power generate numerous heat, STACKRACK emphasizes on providing exceeding thermal design guarantee superior system performance under critical environment. HORUS330 X1 & X2 innovatively adopt dual sided thermal solution, with copper heat spreader directly touches the heat source components processor and graphic GPU to absorb the heat rapidly, heat then transfer to heat pipe; heat pipe is two-phase heat transfer involves the liquid-vapor phase change of a working fluid which can provide high efficiency heat transmission. The aluminum heat sink dissipates the heat into surrounding air promptly. One side thermal solution is mainly for 7th generation Core® i7-7820EQ & Broadwell XEON D1548 45W processor and the other side is to dissipate the heat for graphic GTX950 or GTX1050Ti GPU. With unique thermal design, HORUS330-X1 & X2 can ensure high performance and reliability while working under extended range temperature from -20 up to 60°C.
Rich I/O Expansions
STACKRACK's HORUS330-X1 & X2 Series, equipped with 7th generation Core® i7-7820EQ & Broadwell XEON D1548 45W processor, Dual-channel DDR4 SO-DIMM sockets support up to 32 GB of memory, boosts computing power has a huge improvement over the previous generation CPUs and graphics performance. HORUS330-X1 & X2 are designed to fulfill demands of different application. Apart from standard I/O interface, HORUS330-X1 & X2 equipped with two I/O expansions at the back panel in order to have more flexibility and be more use-friendly. Which that offers user to customize additional function such as optional quad LAN port from MT321 Ethernet module, CAN Bus/GPS and display output from GTX1050Ti. With these expansions, and the Series' compact footprint is perfect for deployment in limited-space environments such as in-vehicle computer system.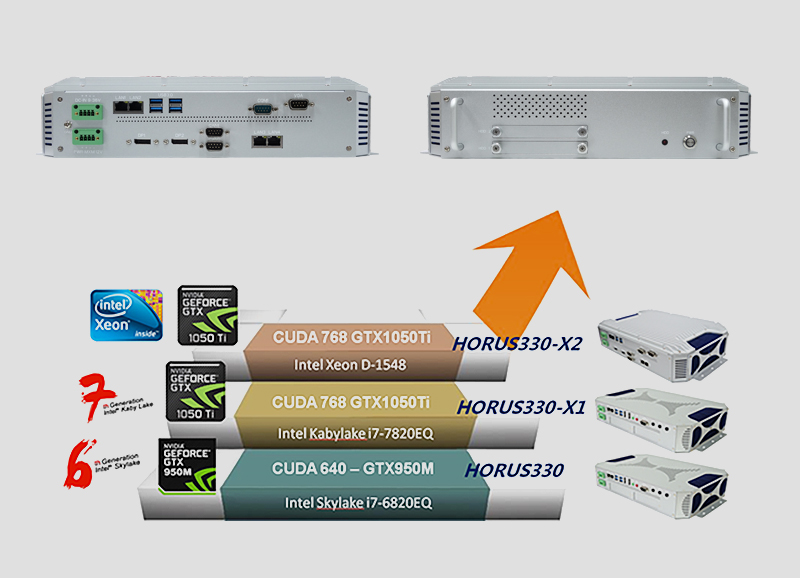 MIL-STD-810G standard
HORUS330-X2 is designed to meet MIL-STD-810G standard for shock, vibration, humidity/ EMI/EMC conditions. MIL-STD-810G standard is considered the upmost principle, which guarantees the system achieves superior quality and stability when operate under extreme harsh environment. Moreover, HORUS330-X2 designed as CPUGPU fanless server. STACKRACK have conducted the test with series of testing procedures for resistance to shock, vibration, dust, humidity, and extreme temperatures. Besides, featuring cold plate thermal design and conduction cooling, within all the benefits of fanless design, HORUS330-X2 can ensure high reliability and stability while working under wide range temperature from -20 up to 60°C.