ROC236A - Intel® Core™ i7-3517UE 1U Rackmount Fanless server

19" 1U Rack-mount Intel® Ivy Bridge Fanless Rugged System with Core i7-3517UE processor, 9V to 36V DC-in, Extended Temperature. -40 to 70°C
Intel® Ivy Bridge i7/i5/i3 CPU + Intel HM76 PCH (QM77 by request)
1 x 204 pin SO-DIMM DDR3 1333/1600 up to 8 GB
Rich I/O interface with 1 COM, 8 USB, 2 LAN (RJ45)
Supports 1 x 2.5" SATA HDD/SSD
Flexible expansion with 1 x mini PCIe
9 – 36V wide voltage DC-in design
Multi-display: 1 x DVI-I, 1 x VGA
Extended operating temperature. -40 to 70°C
Technical Profile
Specifications
CPU Performance
SSD Performance
Thermal Solution
Certification
Related System:1U Rack Mount ROC236A

PERFECTRON rugged box PCs provides flexible options in terms of processors performance, I/O requirements as well as different industrial applications. PERFECTRON develops 1U rack mount fan-less system featuring Core i7 processor high computing performance with only 15W low power consumption. The fanless design ensures silent operation and eliminates the possibility of gathering dust and external debris inflow which may cause system failure over time. ROC236A integrates wide range DC input from 9V to 36V with extended temperature operation up to +70°C without CPU throttling which makes it a powerful computing model specially designed for automatic control and base station management in automation applications.
ROC236A main board: 3.5" SBC - OXY5336A

1.Intel Core i7 CPU soldering onboard

ROC236A is based on 3.5" SBC—OXY5336A, powered by Intel Ivy Bridge i7-3517UE plus HM76 chipset (QM77 by request) soldered onboard. The processor supports 1.7GHz dual core but consumes only 17W which is relatively low power consumption. With CPU soldering onboard, there is less conduction of heat and high density interconnection between the motherboard and the component, which reduces the MB from the crisis of overheating. Apart from overheating, soldering onboard also provides the best level of shock and vibration protection, removing the unnecessary concern about poor connection that CPU socket type may bring. Generally speaking, it is rare to find 1U rackmount system that is driven by Intel core i7 processor since it is hard to completely dissipate the heat generated by Intel core i7 CPU. Therefore, ROC236A is comparatively valuable with its high computing power but fanless solutions.

2.Special rear I/O placement

Viewing that COM port, VGA port and power connector are tilt-out connectors that protrude from the surface, PERFECTRON deliberately arranges these I/O to be placed at rear side; and further makes the rear I/O configuration is placed inwards for 1.5cm. Therefore, the spare 1.5cm outer chassis will form a shield to protect these tilt-out connectors from getting damaged by external force or by collision. By applying this, users can be double sure that the system is under dual protection.

3.Wide Range DC input

For heavy automation applications, instable voltage always brings headaches about damaging the electric components. ROC236A supports 9V to 36V DC-in, the flexible acceptance of inconsistent power input makes it capable of surviving tough engine cranks and transient over-voltage situations. With wide range DC-in, users can take the advantages of longer product life and dependability as the system performance remains at same level even when the power input is instable.

4.Three-stage thermal design

For automation applications, the environment is always harsh and under high temperature as the machine engines are operating 24/7 nonstop. Therefore the importance of extended operating temperature is undoubted. ROC236A is one of the master work pieces that supports Intel core i7 high computing performance under high operating temperature from -20 to +70°C thanks to its unique three-stage thermal design. The thermal solution flexibly maximize the metal characteristic, using copper heat spreader to absorb heat directly from heat sources, then using heat pipe to transfer heat to aluminum heat sink. The copper heat pipe is the key factor among the whole thermal design. The heat conductivity coefficient of heat pipe can be up to 5000, nearly 12 times better than copper heat spreader. With a perfect combination of copper plus aluminum thermal kit which efficiently manage the heat dissipation up to 70°C.
Operating Temp.

-40°C ~ +70°C

System

CPU

Intel® Ivy Bridge 22nm Core™ i7/i5/i3, BGA type

Intel® Core™ i7-3517UE (2C x 1.7 GHZ), 4M L2 cache (17W)

Intel® Core™ i5-3610ME (2C x 2.7 GHZ), 3M L2 cache (35W)

Intel® Core™ i3-3217UE (2C x 1.66 GHZ), 3M L2 cache (17W)

Chipset

Intel® HM76 Express Chipset (Intel® BD82HM76 PCH)

Intel® QM77 Express Chipset (Intel® BD82QM77 PCH) by request

Memory Type

1 x 204-pin SO-DIMM DDR3 1333/1600 MHz up to 8GB

Expansion Slot

1 x Mini PCIe

Storage Device

1 x 2.5" SATA HDD/SSD

Rear I/O

Ethernet

Intel® 82579LM & 82574IT GbE LAN (support 10/100/1000 Mbps for x2 RJ45 ports)

COM

RS232: DCD-, RXD, TXD, DTR-, GND, DSR-, RTS-, CTS-

RS422: TX-, RX+, TX+, RX-, GND,

RS485: DATA-, DATA+, GND

USB Port

2 x USB 3.0, 4 x USB 2.0

Front I/O

USB

2 x USB 2.0

Physical

Weight
5.65Kg(12.45lbs)

Dimension

440 x 44.6 x 287.2 mm (17.32" x 1.73" x 11.30")

Environmental

Operating Temp.

-40 to 70°C (ambient with air flow)

Storage Temp.

-40 to 85°C

Relative Humidity

10% to 95%, non-condensing
     Test Result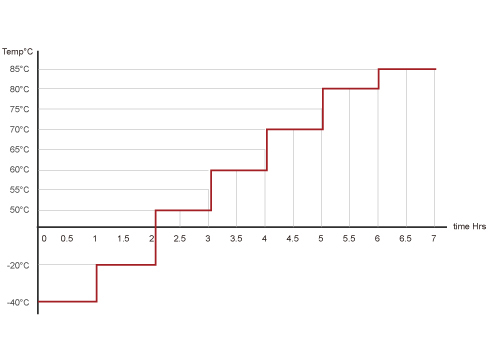 | | |
| --- | --- |
| Device Model | ROC236A |
| Tester | Ian Huang |
| Test Result | Pass |
| Test Temperature | High 0~85°C / Low -40~0°C |
| Test Time | 5 Hours / 2Hours |
| Test Standard | Reference IEC60068-2 |
| Test Software | Burnin test v6.0 |
| Criteria | After testing, system can't halt. |
Test Configuration

Device

Configuration

CPU

Intel® Xeon® Processor D-1587

PCH

SoC

Memory

64GB ECC RDIMM DDR4 2133MHz in 2 sockets

SATAIII

64GB SSD

SATAIII

2TB SSD

LAN1

Intel® i350 100M Ethernet

LAN2

Intel® i350 1G Ethernet

Test Software

Burnin test v8.1, CPU Z-1.86, iperf, Passmark USB3.0
AS SSD Benchmark 2.0.6694, Hard Disk Sentinel 5.01

Chamber

KSON THS-b4t-150
Chipeng SMO-3
Thermal Measurement

PERFECTRON provides real lab testing figures to show how CPU performance is with each tailor made thermal kits as important references and design guide for system engineers. For system integration, the crucial challenge is the operation performance under high temperature, thus PERFECTRON conducts long time experiments to make sure the superior testing result for all critical missions. By revealing temperature at processor T junction, processor die and heat sink, PERFECTRON is able to analyse the thermal solution we designed achieves maximum efficacy and observe CPU performance. The high temperature testing takes 5 hours which at each temperature point.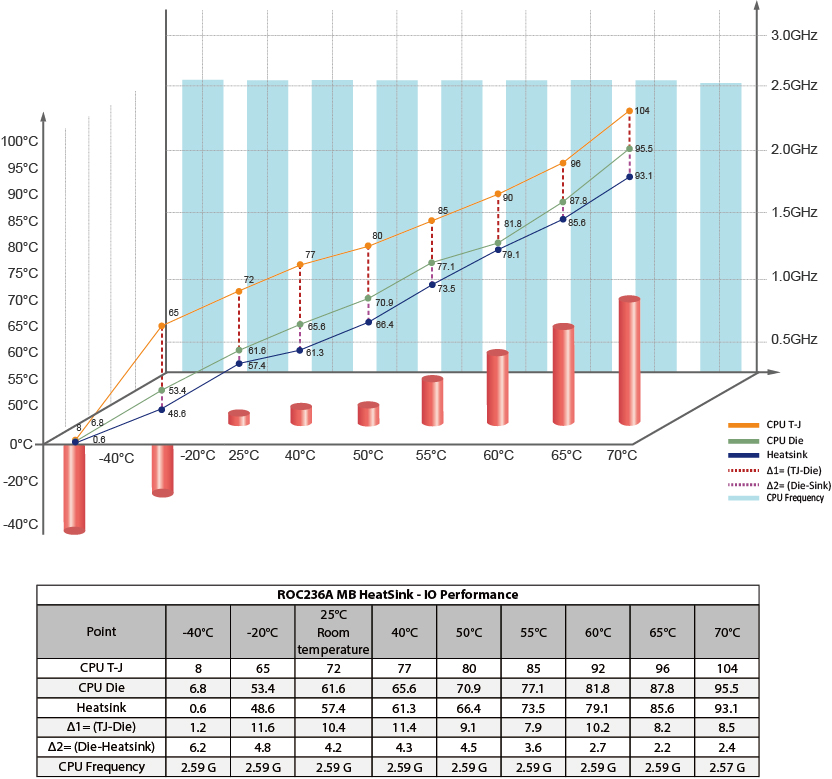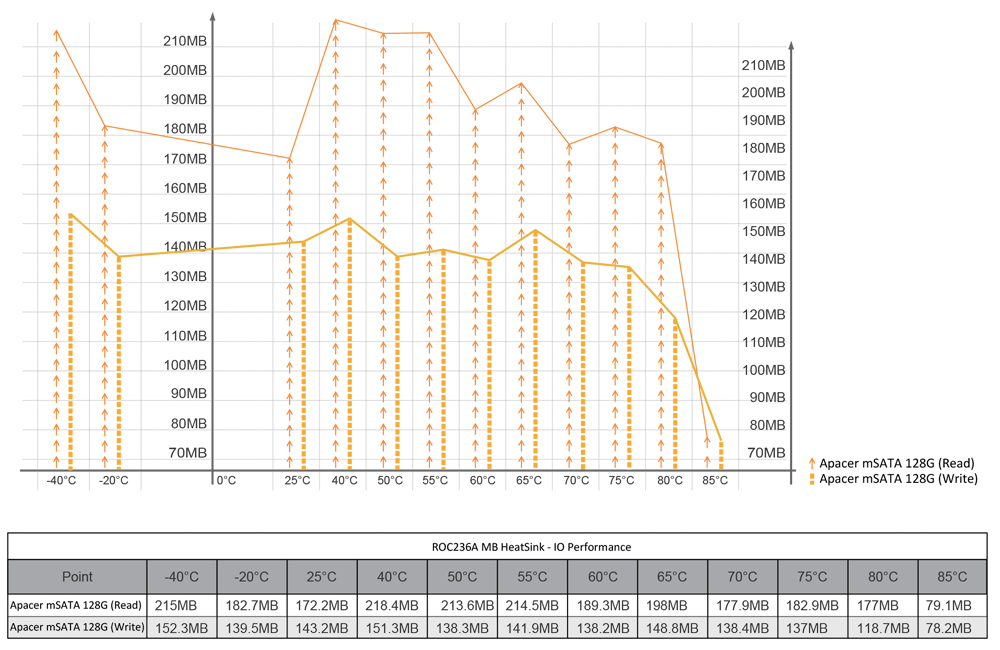 Advanced cooling solution for better heat dissipation

To meet the demands of customer's extended temperature requirements, the whole thermal solution of ROC236A simultaneously embraces three heat transfer methods, heat conduction, heat convection and water circulation. For heat conduction, the solution utilizes a copper heat spreader on the bottom layer which directly contact with the processor and chipset. Heat is then transferred to upper aluminum heat sink. Further, comes to water circulation that formed in heat pipe. The working fluid indirectly brings away the heat to dual side aluminum heat sink for faster heat dissipation. Regarding to heat convection, the temperature differences caused by high and low fin design forms a mild airflow that could bring away heat efficiently. Breakdown drawing and detailed description are provided as below. 
Housing with honeycomb venting design
The enclosure features large, open honeycomb vents on the top, sides, front and back to enhance natural ventilation. The venting design enables greater airflow through the entire area of the honeycomb surface without occupying too much space.
•features a black SECC finish and measures 44mm (1.73") deep
•1U Rackmount slim size, is suitable for space limited or standard rackmount applications.
Copper heat spreader
99.9 % purity of copper, 6.7 mm height and weigh 329 g, 126 x 72 mm2
2 x Copper heat pipes
Heat pipe transfers heat from the heat sources to the heat sink over relatively long distance. Two-phase heat transfer involves the liquid-vapor phase change of a working fluid.
•heat pipe 1: 6.0 mm width diameter, 147x69 mm length and 56-61% purity of copper which
weighs 48g
 •heat pipe 2: 6.0 mm width diameter, 267x147 mm length and 56-61% purity of copper which
weighs 94g
SSD Bracket
To protect and make the SSD fixed
Add-on module
 •Extra 2 x USB ports module
Aluminum heat sink
96 % purity of aluminum, 16.5 mm height and weighs 320 g, 126 x 60mm2
Copper heat spreader
99.9 % purity of copper, 6.7 mm height and weigh 360 g, 126 x 72 mm2
SK701
 •60W DC/DC Converter Module
 •Wide Input Range: 9V to 36V DC
 • 12V DC Output up to 5 Amp
 •Over voltage/ Over current/ Surge protection
 •Extended operating temp. -40 to 85°C
Main board: 3.5" SBC—OXY5336A
Easy swap open window for SSD