SR800 - Intel® Xeon® D-1587 IP65 Rugged VMware Workstation
IP65 VMware rugged workstation with Intel® Xeon® D-1587 Processor (16 Cores), 128GB DDR4 ECC RDIMM, MIL-DTL-38999 , MIL-STD 461/1275 Compliant
 
MIL-STD-810G Thermal, Shock, Vibration, Humidity
MIL-461E Certified /1275 EMI/EMC Compliant
16 Cores Intel® Xeon® D-1587 VMware Support
128GB DDR4 ECC R-DIMM
Rugged MIL-DTL-38999 Souriau Connector
Dual Removable Solid-State Disk
Hardware Secure Erase (AES)
Windows 10/Server, Linux, VMware Compatible
12V-40V DC MIL-1275/704 Power Supply
Technical Profile
Specifications
CPU Performance
SSD Performance
Thermal Solution
Certification
 Introduction
The SR800 equipped Ultra-High Performance Intel® Xeon® D-1587 is fully qualified IP65 with D38999 connectors which can offer the highest performance capabilities and ready to handle multiple applications in harsh environments. SR800 is designed to meet strict size, weight, and power (SWaP) requirements and to withstand harsh environments, including temperature extremes, shock/vibe, sand/dust, and salt/fog.
SR800 is MIL-461/1275 EMI/EMC compliant  rugged workstation. It passes numerous environmental tests including Temperature, Altitude, Shock, Vibration, Voltage Spikes, Electrostatic Discharge and more. The sealed compact chassis shields circuit cards from external environmental conditions such as sand, dust, and humidity.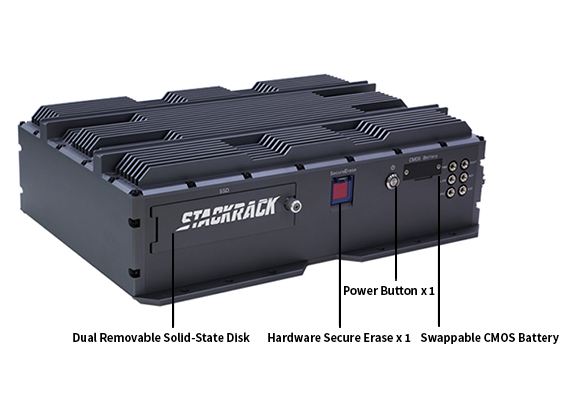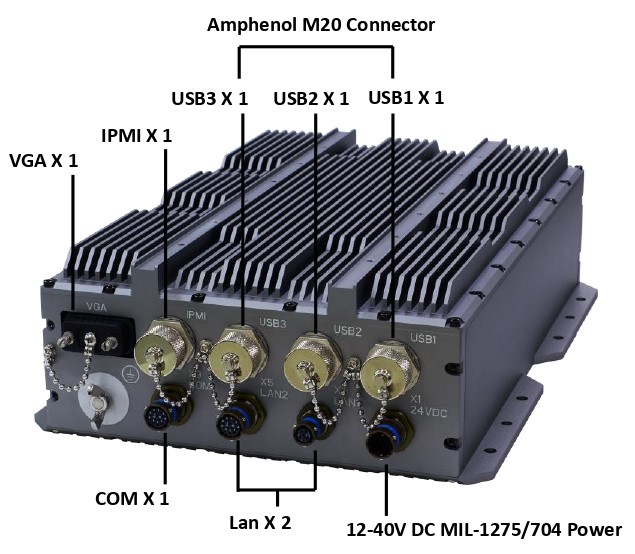 Ultra-High Intel® Xeon® D Processor ( 16 Cores, 32 Threads, 24MB Cache )

Broadwell DE:

Intel® Xeon® processor D-1500 product family offers hardware and software scalability from two up to sixteen cores, making it the perfect choice for a broad range of high-performing, low-power solutions that will bring intelligence and Intel® Xeon® reliability, availability, and serviceability (RAS) to the edge.
 

Enhanced performance per watt:

Intel® Xeon® processor D-1500 product family delivers exceptional value and unmatched performance density per watt. Its TDP of 19W to 65W, industry-leading 14 nm process technology and a compute-only design make it ideal for meeting the diverse needs of customers seeking mid-range low-power, high-density solutions.
 

Enabling more IoT Use Cases:

The Intel® Xeon® processor D-1500 product Family drives a host of new IoT opportunities for a wide range of environments, while addressing real-time optimization, and workload consolidation. Its temperature rating spans from -40°C to 85°C operating ambient conditions, which establishes new possibilities for Intel® architecture in markets that require robust products, like aerospace and industrial. 
Unique Features

MIL-STD-1275/704 Power Supply with Voltage Transient Protections

SR800 is designed with MIL-STD-1275/704, protecting against vehicle/aircrafts voltage surges, spikes and transients, and even electromagnetic interference. This characteristic is well suited for the strictest military requirement and deliver optimal performance in harsh conditions.
The GAIA Hi-Rel DC/DC CONVERTER it also provides under voltage Lockout (UVLO), Output over Current Protection (OCP), Output Overvoltage Protection (OVP) and Over Temperature Protection (OTP) to made stability and safety.

---

Swappable CMOS Battery

Generally, to exchange the battery from a rugged solution is complicated and has the possibility to affect the original function of water and dust resistance. SR800 has an easy swappable battery tray allowing users to directly replace. A coin-cell battery can be seen when pulling the tray fully out of the computer; users just need to change with CR2032 battery and push the tray back and lock screw, then the replacement is completed.t

---

Dual Removable SSD ( Solid-state Disk )

The dual Removable SSD (Solid-state Disk) provide a compact self-contained system to store and retrieve data from ruggedized and removable 2.5" Flash Disks and have been qualified to meet the most demanding MIL-STD-810 environments. The dual Removable SSD Disk System is the perfect DTU for military, aerospace, avionics and ground vehicle systems. These systems include flight management, cockpit instrument display, terrain awareness and warning, map systems, radar systems, cockpit/ground communications, navigation positioning, and satellite communications.

---

Hardware Secure Erase

Under emergency situation, when written data is required to be erased immediately, a Secure Erase Button is extremely indispensable. Instant Erase is a particular feature for SED ( Self Encryption Drive ) drive. It's faster than Quick Erase to make all written data invalid. The encryption and decryption is controlled by an AES key on the path; once the AES key is replaced by a new one, the data becomes unrecognizable.

---

D38999 connectors offer the highest performance capabilities and reliability for both general duty and severe environment applications. This cylindrical connector family designed for cable-to-panel I/O applications in military, aerospace and other demanding hazardous situations. D38999 connectors are capable of operation within a temperature range -65 to 200°C. They are lightweight and can stand up to environmental challenges. Made with removable crimp or fixed hermetic solder contacts, these connectors provide high-vibration characteristics and are suitable for severe wind and moisture problem areas.

---

Patented Thermal Solution

STACKRACK designs a unique enclosure that is able to stack together both horizontally and vertically. The aluminum heat sink enclosure of SR800 allows top heat dissipation. STACKRACK exclusively adopts special heat radiating material and combining with special CNC cutting, further forged into a lavish sophisticated metal.

 
Operating Temp.

0°C~50°C 

System

Model
SR800
CPU
Intel® Xeon® Processor D-1587 (Frequency 1.7GHz, Turbo Boost Frequency up to 2.3GHz), 16-Core,
32 Thread Support, 24MB Smart Cache.
Build-in Turbo Boost Technology 2.0, VPro and Hyper-Threading
Memory
support. 4 x DIMMs Up to 128GB ECC RDIMM DDR4 2133MHz
Chipset
SoC, integrated with CPU

Display

Graphics Processor
ASPEED AST2400
Display Port
Resolution up to 1920x1200@60Hz 32bpp

Storage

SSD/HDD
2 x 2.5" SSD

Ethernet

1 x Intel I350-AM2 Gigabit LAN Interfaces ( 10/100/1000Mbps )

Rear I/O

VGA
1 ( M20 connector )
IPMI
1 ( M20 connector )
USB3.0
2 ( M20 connector )
USB2.0
1 ( M20 connector )
X1 ( DC-IN )
1 ( Souriau 8ST7-10G05PN )
X5 ( Gigabit Ethernet )
1 ( Souriau 8ST7-10G35SA )
X6 ( 100M Ethernet )
1 ( Souriau 8ST7-08G35SN )
X9 ( RS232 )
1 ( Souriau 8ST7-10G35SB )

Side I/O

Button
1 x Secure Erase Button ( SSD2 support AES Secure Erase )
1 x Power Switch with Dedicated LED
HDD Tray
1 x Dual 2.5" HDD/SSD Easy Swap Tray
CMOS Battery Tray
1 x Removable CR2032 CMOS Battery Tray
Dedicated LED
3 x SDD LED ( Leftside x 2, Rightside x 1 )
4 x Dual Color LED for 8bit GPIO ( Reserved )

Power Requirement

Power Input
MIL-STD-1275, MIL-STD 704 and DO-160 power supply ,12 to 40V ( 150W max )

Applications, Operating System

Applications
Commercial and Military Platforms Requiring Compliance to MIL-STD-810G
Embedded Computing, Process Control, Intelligent Automation and
manufacturing applications where Harsh Temperature, Shock, Vibration, Altitude,
Dust and EMI Conditions. Used in all aspects of the military
Operating System
Windows 10 64Bit, Windows Server 2008 R2,
Windows Server 2012 R2 Ubuntu14.04,
Fedora 20/23, RedHat Linux EL 7.1/7.2,
Vmware ESXi 6.0, ESXi 6.5

Physical

Dimension ( W x D x H )
260 x 350 x 102 mm
Weight
9.6 Kg (21.16lbs)
Chassis
Aluminum Alloy, Corrosion Resistant.
Finish
Anodic aluminum oxide ( Color Iron gray )
Cooling
Natural Passive Convection / Conduction. No Moving Parts
Ingress Protection
IP65

Environmental

MIL-STD-810F Test
Method 507.5, Procedure II ( Temperature & Humidity )
Method 516.6 Shock-Procedure V Non-Operating ( Mechanical Shock )
Method 516.6 Shock-Procedure I Operating ( Mechanical Shock )
Method 514.6 Vibration Category 24/Non-Operating ( Category 20 & 24, Vibration )
Method 514.6 Vibration Category 20/Operating ( Category 20 & 24, Vibration )
Method 501.5, Procedure I ( Storage/High Temperature )
Method 501.5, Procedure II ( Operation/High Temperature )
Method 502.5, Procedure I ( Storage/Low Temperature )
Method 502.5, Procedure II ( Operation/Low Temperature )
Method 503.5, Procedure I ( Temperature shock )
Reliability
No Moving Parts; Passive Cooling.
Designed & Manufactured using ISO 9001 / 2000 Certified Quality Program.
Operating
Temperature
0°C to 50°C
Storage
Temperature
-40°C to 85°C
EMC

MIL-STD-461E Certified :
CE102 basic curve, 10kHz - 30 MHz
RE102-4, (1.5 MHz) -30 MHz - 5 GHz
RS103, 1.5 MHz - 5 GHz, 50 V/m equal for all frequencies

EN 61000-4-2: Air discharge: 8 kV, Contact discharge: 6kV

EN 61000-4-3: 10V/m

EN 61000-4-4: Signal and DC-Net: 1 kV

EN 61000-4-5: Leads vs. ground potential 1kV, Signal und DC-Net: 0.5 kV

CE and FCC
 The rugged MIL-STD compliant system, SR800 is equipped with highly effectively heat conductive and heat convective thermal solutions to meet extended temperature requirements. The heat conductive solutions uses an aluminum flat mass to place in direct contact with the processor and chipset, the heat from chips then transfers it to the case of the system via 8.0 mm copper heat pipes. In addition, the convective thermal solutions introduce airflow directed to move across the surface of a fin style heatsink placed on top of the processor and chipset. This can be done with the aid of an appropriately sized fan placed in top of the fin style heatsink. Alternately, enclosure airflow can be routed to flow across a fin style heatsink.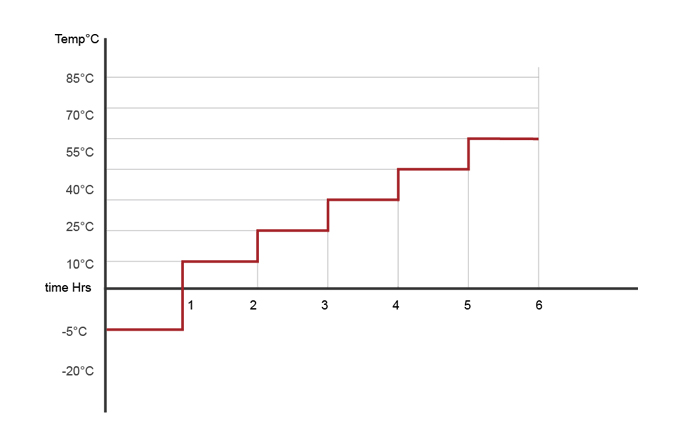 | | |
| --- | --- |
| Device Model | SR800 |
| Tester | Robin Chang |
| Test Result |  Pass |
| Test Temperaure | High 0°C ~55°C/ Low -5°C~85°C |
| Test Time | 5 Hours / 1 Hour |
| Test Standard | Reference IEC60068-2 |
| Test Software | Burnin test v8.1 |
| Criteria | Afer Testing, system can/t halt |
Test Configuration

Device

Configuration

CPU

Intel® Xeon® Processor D-1587

PCH

SoC

Memory

64GB ECC RDIMM DDR4 2133MHz in 2 sockets

SATAIII

64GB SSD

SATAIII

2TB SSD

LAN1

Intel® i350 100M Ethernet

LAN2

Intel® i350 1G Ethernet

Test Software

Burnin test v8.1, CPU Z-1.86, iperf, Passmark USB3.0
AS SSD Benchmark 2.0.6694, Hard Disk Sentinel 5.01

Chamber

KSON THS-b4t-150
Chipeng SMO-3
Thermal Measurement

STACKRACK provides real lab testing figures to show how CPU performance is with each tailor made thermal kits as important references and design guide for system engineers. For system integration, the crucial challenge is the operation performance under high temperature, thus STACKRACK conducts long time experiments to make sure the superior testing result for all critical missions. By revealing temperature at processor T junction, processor die and heat sink, STACKRACK is able to analyse the thermal solution we designed achieves maximum efficacy and observe CPU performance. The high temperature testing takes 5 hours which at each temperature point we burn in SR800 for one hour, from 50°C to 85°C.

SR800 CPU Performance

| | | | | | |
| --- | --- | --- | --- | --- | --- |
| Point | -5°C | 10°C | 25°C | 40°C | 55°C |
| CPU T-J | 35 | 60.2 | 85.4 | 85.7 | 86 |
| CPU Die | 22.1 | 51.1 | 80.1 | 85.8 | 91.4 |
| CPU Heatsink | 19.5 | 46.3 | 73.1 | 79.5 | 85.8 |
| CPU Frenquency (GHz) | 2.1 | 2.1 | 2.1 | 2.1 | 2.1 |
SR800 System - IO Performance
| | | | | | |
| --- | --- | --- | --- | --- | --- |
| Point | -5°C | 10°C | 25℃ Room temperature | 40°C | 55°C |
| 64GB SSD | 15.9 | 42.2 | 68.5 | 72.8 | 77.1 |
| 2TB SSD | 17.6 | 44.3 | 70.9 | 75.0 | 79.1 |
| Apacer 64GB (Read) MB/s | 402.7 | 406.1 | 409.5 | 406.1 | 402.6 |
| Apacer 64GB (Write) MB/s | 191.3 | 192.6 | 193.8 | 192.1 | 190.4 |
| Exascend 2TB (Read) MB/s | 352.9 | 339.2 | 325.5 | 312.3 | 299.1 |
| Exascend 2TB (Write) MB/s | 331.9 | 332.2 | 332.5 | 310.4 | 288.2 |
Patented Thermal Architecture
STACKRACK guarantees reliable and supreme solutions for industrial and military applications. All of our selected components are of authentic industrial grade, and have verified their stability and durability through a series of Wide-range Temperature tests.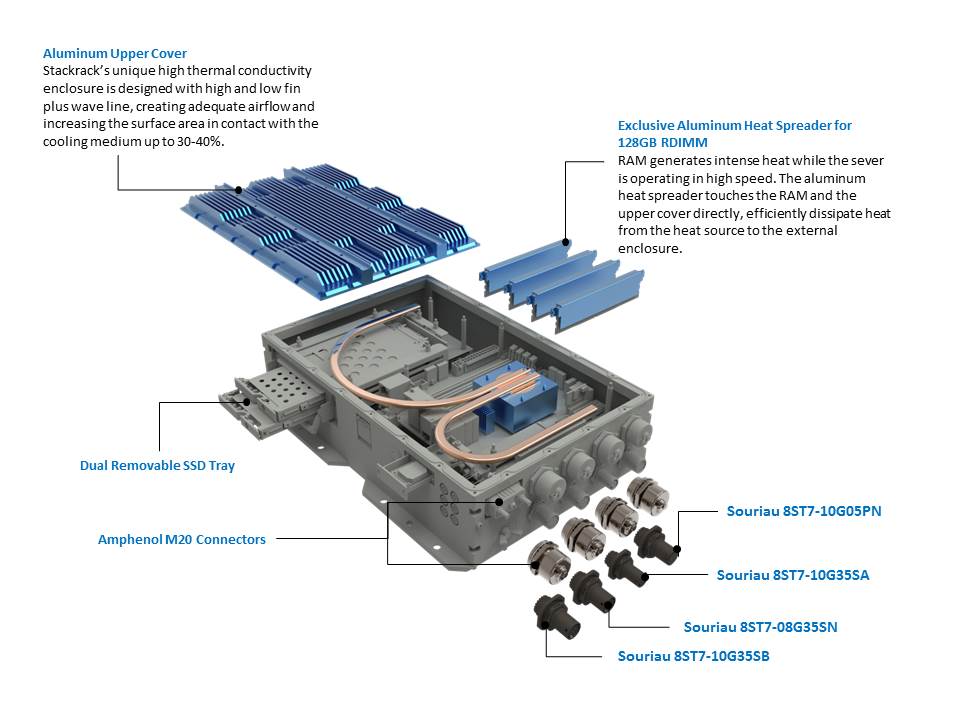 Aluminum Upper Cover
Stackrack's unique high thermal conductivity enclosure is designed with high and low fin plus wave line, creating adequate airflow and increasing the surface area in contact with the cooling medium up to 30-40%.
Exclusive Aluminum Heat Spreader for 128GB RDIMM
RAM generates intense heat while the sever is operating in high speed. The aluminum heat spreader touches the RAM and the upper cover directly, efficiently dissipate heat from the heat source to the external enclosure.